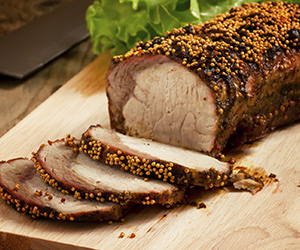 The cold weather in South Florida has us longing for warming, home cooked meals. Pork loin is a great choice because once you've dressed it and popped it in the oven, you can get a lot done around the house while it cooks, or even fit in some exercise. This is a simple, classic recipe combining mustard and herbs. Many people may see mustard as just a condiment. But mustard is made from mustard seeds, which are part of the cruciferous vegetable family and offer anti inflammatory effects similar to its broccoli, Brussels sprout, and cabbage relatives. Three ounces of pork loin provides 23 grams of high quality protein, which is important for gastric sleeve, gastric bypass, and lap band patients. You can change the fresh herbs you use to suit your taste. If you don't like rosemary, try sage instead. Best of all, this is a recipe the whole family can enjoy, or it will provide you with great leftovers that can be eaten warm or cold.
Ingredients:
½ cup grainy mustard
1 tbsp honey
1 tbsp vegetable oil
1 tsp thyme
¼ tsp rosemary, chopped
salt and pepper
pork loin, boneless
Directions:
Place the pork loin in a dish. Sprinkle with salt and pepper.
Combine all the marinade ingredients in a bowl and spread over the pork loin.
Bake in 325 degree oven for 3 hours or until the middle reaches an internal temperature of 145-160 degrees. Take out of the oven. Let pork sit covered for 10-15 minutes to rest.
Slice thin. Serve a portion size that you can tolerate. Chew thoroughly and enjoy.
The above recipe idea is provided by Dr. Shillingford's staff to help offer menu ideas that are both good for you and high in protein to help with your weight loss success after your gastric sleeve, lap band, or gastric bypass surgery. Dr. Shillingford's advanced laparoscopic and obesity surgery practice in located in Boca Raton, Florida and serves patients from Miami, Fort Lauderdale, Delray Beach, and all of South Florida. Dr. Shillingford's surgical weight loss patients are often seeking information on meal preparation after their lap band, sleeve gastrectomy, or gastric bypass surgeries.