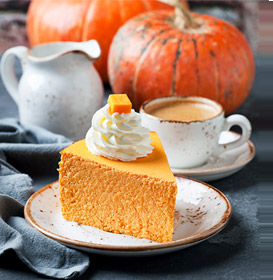 Thanksgiving is coming and with that will likely be a selection of delicious (but very sugary) desserts. Gastric sleeve, gastric bypass, and lap band patients may find it hard to resist these tempting morsels. So many Americans overindulge on Thanksgiving, but bariatric patients in particular should try their best to stick as close to their post op diet as possible to avoid potential side effects like nausea and diarrhea.
One of the best ways to avoid the temptation of sweet desserts is to have a good alternative. If you are staying at home for Thanksgiving or going to a gathering, making a dessert that is lower in carbohydrates in a good choice and may be appreciated by others also trying to cut back on sugar and lose weight.
Although there are many lower sugar dessert recipes, if you are looking for a traditional tasting dessert look no further than this Pumpkin Cheesecake Whip. The canned pumpkin adds vitamins, minerals, and fiber, while the greek yogurt adds protein. Adding your favorite unflavored protein powder can be a great way to add extra protein, too. Be mindful when taking your portion that this dessert is not specifically low sugar- it will have carbs naturally from the pumpkin, yogurt, and whipped topping. But, it will probably lower in sugar that most of the other sweet treats offered on Thanksgiving Day, and with the addition of protein powder it can help you meet your protein goal.
Bariatric Pumpkin Cheesecake Whip
15 oz can pumpkin puree (NOT pumpkin pie filling)
5 oz nonfat plain greek yogurt
1 small package sugar-free cheesecake flavored pudding mix (sugar-free vanilla can be substituted)
¼ tsp pumpkin pie spice
¼ tsp cinnamon
8 oz light whipped topping
Protein powder optional
Directions:
Add all ingredients except whipped topping to a medium mixing bowl. Using a handheld mixer, mix until all ingredients are evenly combined.
Using a spatula, fold in whipped topping.
Refrigerate until serving.
Dr. Shillingford's office wishes everyone a Happy Thanksgiving and would like to use this time to remind our gastric sleeve, gastric bypass, and lap band patients of a few things. Remember to eat your protein first, then vegetables, then fruit. Only eat foods that you can tolerate according to your post op diet stage. Take small bites and chew them well. Separate your food and your water. And do not drink your calories.
Dr. Shillingford, MD, PA is a board certified surgeon specializing in advanced laparoscopic and robotic surgery in addition to weight loss surgery. Gastric sleeve, gastric bypass, and lap band patients receive superior care and attention during their stay at Northwest Medical Center's Center of Excellence in Bariatric Surgery, where Dr. Shillingford proudly serves as Medical Director. Follow up care in Dr. Shillingford's Boca Raton office is convenient for many patients in surrounding areas of Miami, Fort Lauderdale, Coral Springs, West Palm Beach, and Wellington.