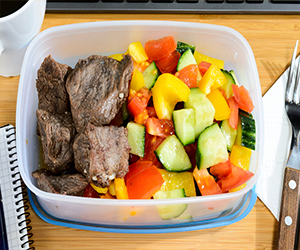 Impulse buys at the supermarket are not usually the healthiest of selections. The same theory can be applied to last minute lunch selections.
A new study shows that people who order lunch earlier in the day chose meal options that are 100 calories less than their counterparts who order lunch for immediate consumption. That means that by using apps or websites that allow you to order meals and set a pickup or delivery time for later in the day, you could consume less calories than if you wait until your lunch break to decide what's for lunch. While the study did not delve into specifics or reasons behind the findings, researchers mostly attributed the results to the fact that better decisions are often made in advance as opposed to in the heat of the moment. In essence, planning ahead leads to better food decisions.
Planning lunch ahead of time can be very helpful for bariatric patients. When meals and ingredients are planned ahead, we are less likely to eat out or order food in. Often times, the food we cook at home is better for us and has less calories than foods cooked outside the home. This is especially important for gastric sleeve, gastric bypass, and adjustable lap band patients who are trying to adopt healthier eating habits and consume less calories to achieve weight loss.
Planning ahead to bring lunches from home is another good way of trimming calories. Leftovers can be packed into single serving containers to make quick, grab and go lunches. If leftovers aren't an option, planning your lunch is best done the night before. Prepare chicken, tuna, or egg salad the night before to make your morning prep easier. Vegetables like carrots, celery, cucumbers, and peppers can be cut up and placed in sandwich bags to make them easy to grab in the morning. If you're short on time in the morning, cottage cheese, Greek yogurt, or deli meat and cheese roll ups can be quick sources of protein you may already have on hand. Add some fresh fruit for a well rounded lunch.
The above is offered by Dr. Shillingford, M.D., P.A., a board certified surgeon specializing in laparoscopic and obesity surgery. Dr. Shillingford's gastric sleeve, gastric bypass, and adjustable lap band patients come from all over Florida as well as other states for his services. Patients often come from Boca Raton, Wellington, Miami, Fort Lauderdale, Hollywood, Tampa, and Orlando, as well as Houston, Atlanta, New York. Dr. Shillingford encourages his patients to change their lifestyles to adopt healthier habits, and meal planning is an easy and effective way of reducing calories.