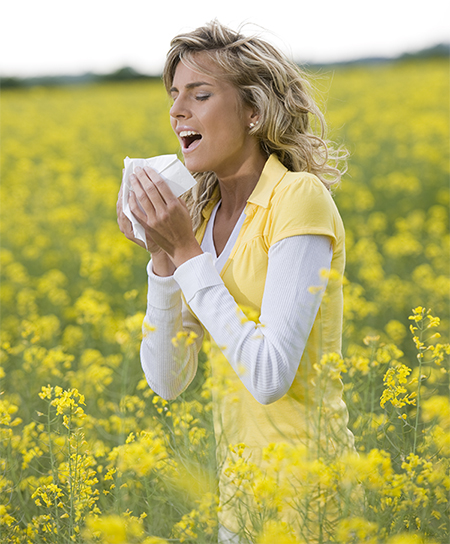 Happy spring! March 20th officially marked the beginning of this year's spring season. We may have lost an hour of sleep, but once the initial grogginess wears off, we are thankful to have an extra hour of daylight at the end of the day. One perk about spring in Florida is the fact that allergies are nowhere near as severe as they are in other parts of the country (Thank the palm trees!) Although allergies are not necessarily a major health concern, symptoms can worsen respiratory problems such as asthma. According to the Centers for Disease Control and Prevention asthma affects 18.7 million adults and 7 million children in the U.S. Additionally, studies show that asthma is twice as likely to affect adults with a BMI of 30 and greater (those considered obese). There is extensive evidence that obesity puts can reduce lung volume, airways size, and blood circulation to the respiratory system as a whole.
Dr. Shillingford's Boca Raton, Florida practice treats debilitating diseases, such as asthma, from the cause. His patients come from Miami, Ocala, West Palm Beach, and even across the state from cities such as Naples and Tampa seeking his highly personalized and compassionate care. Whether patients choose to undergo the Sleeve Gastrectomy (Gastric Sleeve), Gastric Bypass, or the Lap-Band procedures, they are taking a step towards sustainable weight loss. The result is always a happier life full of energy and health to enjoy the ocean waves, flower blooms, and extra hour of daylight!
If you are experiencing allergies this season there are a few things you can do to improve your symptoms:
Have your air vents checked once a year and set a weekly cleaning routine.
Consider using a Neti Pot to safely flush out sinuses, you can get one at your local pharmacy and once you get the hang of using it you will be amazed at the results.
Eat more spicy foods! The temporary decongestant effect will also help clear you up.
Dr. Kahlil Shillingford is a board certified surgeon who specializes in bariatric or weight loss surgery including the Sleeve Gastrectomy (Gastric Sleeve), Gastric Bypass, and Lap-Band procedures. His patients come from across the state of Florida including Miami, Ocala, West Palm Beach, Naples and Tampa. To learn more about Dr. Shillingford's integrative weight loss surgeries and all-inclusive fees please call his office in Boca Raton, Florida at (561) 483-8840.