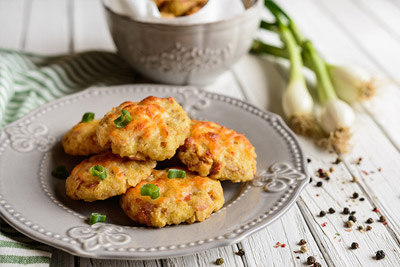 Having a high protein, low carb breakfast waiting for you in your fridge to grab and go can make all the difference to start your day off right. Our mornings can be hectic even before the sun has fully risen. Many people just don't have the time to cook a high protein meal for their weight loss diet before heading out the door every morning. These low carb, high protein ham and cheese rolls can make a perfect grab and go bariatric breakfast for gastric sleeve, gastric bypass, and lap band patients.
These rolls are not traditional "rolls" as they have no flour, which makes them a good choice to fit into a bariatric diet and a low carbohydrate diet for people with type 2 diabetes. The only ingredients are eggs, cheeses, and ham. The cheeses will naturally have carbohydrates, but all of the ingredients are high in protein, making these a good choice for weight loss surgery patients. You can opt for different meat or different cheese to vary the flavors. Bacon, turkey bacon, or ground sausage could be good options. Simple additions like green onions or diced jalapenos can add color and flavor, but make sure you follow Dr. Shillingford's guidelines for advancing your bariatric diet and when it's acceptable to add vegetables. After cooking, place in a container (or containers if you meal prep for the week) or inpidually wrap them in foil for a grab and go meal.
Low Carb Ham and Cheese Rolls Recipe by Sweet C's
INGREDIENTS
3/4 cup shredded mozzarella cheese
1/2 cup shredded cheddar cheese
1/2 cup grated parmesan, or asiago, other hard, dry, grated cheese
1 cup diced ham
2 eggs
INSTRUCTIONS
Preheat oven to 375 degrees Fahrenheit.
Combine the shredded cheese and egg in a bowl and mix it until the ingredients are fully combined.
Stir in diced ham and mix to combine.
Set out a well prepped baking sheet - greased or lined with parchment or a silpat.
Divide the mixture equally into six to eight parts and form into round rolls.
Bake at 375 degrees for about 15 to 20 minutes until the cheese has fully melted and created a slight brown crust.
Feel free to mix up your cheese selection - but stick with one grated hard, dry cheese (like parmesan or asiago) to keep the flour-like texture.
For more bariatric and diabetic-friendly recipes, follow Dr. Shillingford, MD on Facebook. Dr. Shillingford, MD, PA is a board-certified surgeon specializing in advanced laparoscopic and weight loss surgery. Dr. Shillingford's gastric sleeve, gastric bypass, and gastric band patients find his Boca Raton office conveniently located close to Coral Springs, Miami, Fort Lauderdale, Palm Beach, and even Orlando. To book your appointment to see if you qualify for weight loss surgery, call Dr. Shillingford, MD at (561) 483-8840.