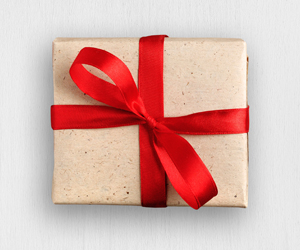 Don't let Valentine's Day weigh you down. It's estimated that 58 million pounds of chocolate will be purchased during Valentine's week, and 36 million heart shaped candy boxes will be sold. The average consumer will spend over $115 on Valentine's Day food, gifts, and entertainment. Why not put your money to good use this Valentine's Day and spend it on ways to contribute to good health? Nothing says "I love you" more than giving a gift that contributes to a longer, healthier life together for you and your sweetheart.
We have gathered a list of Valentine's Day gifts that promote health and wellness and tell your partner that you care about them, their heart, and their health. These ideas are good for gastric sleeve, gastric bypass, and lap band patients, as well as anyone who is making an effort to improve their health or their waistline. Sure, a box of candy hearts tastes good, but it doesn't get your heart stronger.
Let's take a look at gifts that contribute of overall better health, especially for our gastric sleeve, gastric bypass, and lap band patients.
Dark Chocolate
Heart shaped boxes of chocolate may seem romantic, but they are often filled with milk chocolate candies and candies filled with sugary centers. Instead, give your love dark chocolate candy bars. Good quality dark chocolate can actually be good for your heart and your mood. The antioxidants and flavonoids in dark chocolate can help repair and resist cell damage. You can look for different brands or different flavors, but choose dark chocolate that has over 70% cocoa to give your love a sweet treat to tickle their taste buds and actually help their heart.
Tea
A tea sampler and a mug for hot beverages can be a sweet deal. You can choose flavored teas, caffeinated or decaffeinated, black tea, red tea, green tea, or matcha tea, and let your love try them all and decide which they like best. Tea can be relaxing, or stimulating depending on the kind you try. The tea leaves can provide antioxidants and phytochemicals that can contribute to good health. Many documented benefits of teas can include cancer prevention, lowering cholesterol, promoting weight loss, and improved mental alertness.
Fitbit or other health monitoring devices
Nothing says I love you more than caring for your loved one's heart. Many health monitoring watches or devices will check your heart rate, sleep activity, and your exercise level, or a variety of other health related data.
Massage
Whether it's a couples massage or a massage just for your sweetheart, it can leave them or both of you feeling relaxed and rejuvenated. It can give your love time to decompress from the stresses of life and have them feeling good.
A Fruit Tree
Lemon, lime, orange, avocado, and starfruit all grow well in South Florida. Planting a tree for Valentine's Day can be a good symbol for how your love grows over the years, and the fruit can be a welcome gift throughout the year. Squeezing some fresh grown citrus into your water can help you drink more water, adding avocado to your meals can give you extra fiber and healthy fats. It's a gift that keeps on giving.
Water Bottle
There are so many styles of water bottles, it should be fairly easy to find one that will work for your partner. Drinking enough water is essential to good health and definitely helps those trying to lose weight and improve their health. In South Florida, people tend to carry water with them wherever they go, so get your love a bottle that will always remind them of you.
Do Something Together
Instead of a tangible gift, do something together. Spend time with each other having fun and being active. Try ice skating if you want to laugh at yourselves. Go bowling. Take a stand up paddleboard lesson if you don't mind getting a little wet. If you're not quite ready for paddleboarding, rent kayaks and explore nature close to shore. In South Florida, you can easily see a variety of wildlife to make your kayak trip memorable. Making memories with your love is a perfect way to reconnect and revitalize your relationship. Not to mention it helps shed the pounds instead of packing them on.
Your sweetheart may hold the key to your heart, but healthy living and healthy eating hold the true key to your heart. Make this Valentine's Day a day to show your love you really care by choosing a gift or experience that says you love them and want them to be healthy. Instead of drugstore boxed candy, consider one of Dr. Shillingford's gift ideas. Dr. Shillingford, M.D., P.A., a board certified surgeon specializing in advanced laparoscopic and bariatric surgery. Dr. Shillingford's surgical weight loss patients come from all over South Florida, including Boca Raton, Delray Beach, Miami, Coral Springs, and Plantation to seek his services for gastric sleeve, gastric bypass, and lap band surgery.