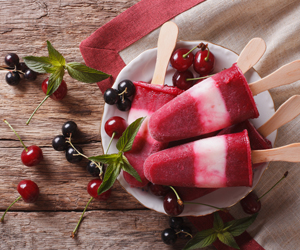 It's hot in Florida! Cooling off with a cold treat sounds like a good idea. But, many frozen desserts, like popsicles, can be high in sugar and not much else, which makes it difficult to fit into a gastric sleeve diet.
Making your own popsicles can be a good way of making sure your including as much protein with as little sugar as you can for your sweet treat. Using milk instead juice can add protein and reduce carbohydrates. Adding greek yogurt is also a good protein addition that also helps add creaminess. Try to incorporate a fresh fruit that is in season or readily available and at their peak of sweetness, or use a frozen fruit.
Cherries are a good choice in these popsicles as they blend well with almond milk. Almond milk is lower in protein than cow's milk, so adding greek yogurt helps to boost the protein content of these popsicles. If you enjoy almond flavor, the addition of almond extract can take these treats to the next level.
As with everything in a gastric sleeve diet, portion size and moderation are the keys to weight loss success. Too many calories will prevent weight loss, or even cause weight gain, so any desserts should be carefully considered. If you do opt for a treat, incorporating fresh fruit and protein can make it a better choice, just like these Cherry Almond Popsicles.
Cherry Almond Popsicles
1 cup cherries (depitted)
¾ cup almond milk
½ cup plain greek yogurt
½ tbsp honey
⅛ tsp almond extract
Blend all ingredients in a food processor. Pour into popsicle molds or use ice cube trays with popsicle sticks or toothpicks. Freeze until solid. Enjoy!
The above recipe is offered by Dr. Shillingford, M.D., P.A., a board certified surgeon specializing in laparoscopic and obesity surgery. Dr. Shillingford's gastric sleeve, gastric bypass, and lap band patients come from all over South Florida for his services, including Boca Raton, Miami, Fort Lauderdale, West Palm Beach, Orlando, and Jacksonville. Dr. Shillingford's surgical weight loss patients are often seeking quick, easy, high protein recipes that also taste great, and this is one popsicle recipe fits the bill!