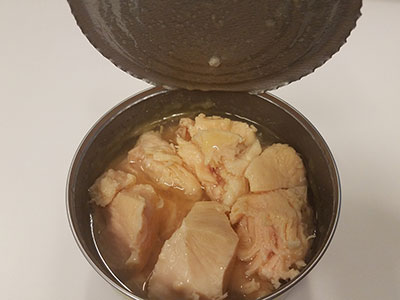 Canned chicken is a staple in most bariatric cupboards. It's shelf-stable. It's high in protein. It's low in fat. And very importantly, it's got zero carbs. All of these things together make canned chicken a good choice for gastric sleeve, gastric bypass, and lap band patients on a weight loss diet and those maintaining their post bariatric surgery weight loss.
While most of us would prefer to bake, grill, or roast chicken breasts or thighs, right now many of us don't have a lot of fresh chicken in our refrigerators. A lot of us have also exhausted our supply of frozen chicken. If you've got canned chicken in your cabinet and don't have a way of restocking your groceries right now, don't despair- use your canned chicken.
While canned chicken doesn't quite work in all recipes the same as freshly cooked chicken, it can be a good choice for some recipes. We've gathered some ideas to help you make some high protein, low carb meals with canned chicken.
Chicken salad- Mince the chicken up and mix with your choice of low-fat mayo, plain Greek yogurt, and/or mashed avocado.
Chicken soup- Leave the noodles out and fill up the pot with chicken stock and lower-carb vegetables like garlic, onions, green beans, tomatoes, broccoli, pepper, and mushrooms. ⋆ Lap band patients should avoid soup.⋆
Chicken chili- Dice the chicken into smaller pieces and include it in either white chili or a tomato-based chili.
Buffalo Chicken Dip- use celery or red pepper strips instead of chips to dip.
Chicken pizza crust
Chicken, broccoli, and cheese casserole
While canned chicken can be a great fit into a bariatric weight loss diet, Dr. Shillingford's gastric sleeve and gastric bypass patients should make sure to follow Dr. Shillingford's guidelines for adding foods into their diet after bariatric surgery.Lap band patients should follow Dr. Shillingford's gastric band diet guidelines. Adding foods, including canned chicken, before it is advised to do so can result in nausea, vomiting, cramping, and not tolerating the food.
Dr. Shillingford, MD, PA is a Florida-based board-certified surgeon specializing in advanced laparoscopic and weight loss surgery. Hisgastric sleeve, gastric bypass, and lap band patients are often seeking high protein, low carb recipe ideas to promote weight loss after their bariatric surgery. For more recipe ideas, "like"Dr. Shillingford on Facebook, read Dr. Shillingford's blog,and his Gastric Sleeve blogs .