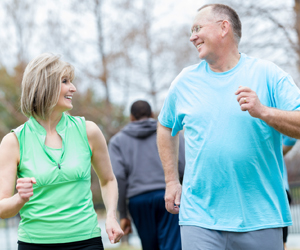 Walking is by far one of the best ways to include physical activity in your day, especially after gastric sleeve, gastric bypass, or lap band surgery. Walking for an hour a day can burn upwards of 400 calories. It requires no particular athletic skills or equipment, all you need are good shoes. Another benefit to walking is that you can accomplish a task while you exercise, like taking the dog out, getting the mail, going to the store, or taking the kids to school or the bus stop. Best of all, most people walk everyday.
Since you do it everyday, you may be surprised to learn that you're not walking correctly. You may accomplish your goal of transporting yourself from place to place, but your form may not best for your body and your safety. Walking with better form is better for you in order to prevent injuries, get the most from your workout, and help you walk further or for longer. Walking can burn calories and help you achieve weight loss success in combination with your post bariatric surgery diet, so anything to encourage walking is a good thing.
Follow these tips to walk with better form:
1. Stand up tall
Your back should be straight, not hunched forward or arched backward.
2. Swing your arms
Let your arms swing naturally. Don't keep them stiff, let your elbows bend slightly.
3. Keep you abs tight
Tightening your abs while walking can take it up a notch. Tighten and release them repeatedly to give your abdominal muscles and extra workout.
4. Watch your step
Don't land flat footed. You should land on your heel, roll to the ball of your foot, then lift your heel back up using the leverage from your toes in order to maintain proper balance and to prevent ankle injuries.
5. Keep your stride
If you are walking with a partner is taller or takes longer steps, don't try to match their stride to keep up, that could strain your muscles. It's better for you to take more steps to keep pace.
6. Don't pump up the volume
Listening to music is a good thing, it can help energize you and keep you walking for longer. But, don't turn the volume up so loud that you can't hear what's going on around you, especially if you are walking outside. You'll need to listen for cars and other vehicles, dogs, people coming at you from behind, or anything else that could catch you off guard.
The above is offered by Dr. Shillingford, M.D., P.A., a Center of Excellence Surgeon specializing in gastric sleeve, gastric bypass, and lap band surgery. Dr. Shillingford's reputation for excellent surgical skills and comfortable bedside manner attract patients from all over Florida, including Miami, Fort Lauderdale, Boca Raton, Tampa, Sarasota, Orlando, and Jacksonville. His bariatric weight loss patients receive top notch care during their hospital stay at Northwest Medical Center's Center for Excellence in Bariatric Surgery, where he serves as Medical Director, and during their follow up care in his Boca Raton office. But, it's up to the patients themselves to incorporate exercise into their daily lives to make the most of their weight loss efforts.