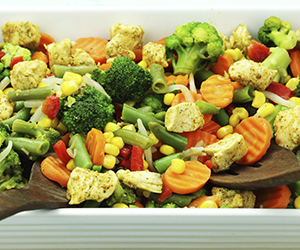 Who doesn't love a dinner that only needs one dish to cook? Combine that with healthy chicken and veggies and we have a winning recipe.
This dish is great for a few reasons. First, it's high in protein, which is a priority for gastric sleeve, gastric bypass, and lap band patients. Second, you can use what you have on hand, or change the vegetables to suit your preferences. Don't like broccoli, change to asparagus. If you prefer red onion, use that. It's completely customizable. Third, there is no sauce to add extra calories, which is perfect for gastric sleeve, gastric bypass, and adjustable lap band patients seeking to lose weight. The flavor comes from the spices you add and from the vegetables, so feel free to make it according to your taste. Fourth, you can add some carbohydrates to the meal. Brown rice or quinoa would work well with the dish and add additional fiber. And lastly (as if you needed another reason!) you cook it all in one dish. One dish cooking makes cleanup a breeze.
You can have this dish prepped and cooked in the time it would take to find a menu, order, and wait for delivery. And by cooking at home, you can ensure that you know what's going into your food and it fits in with your post bariatric surgery diet. Not to mention, it's a meal that most people can enjoy (even if they're gluten free), which makes it even better when you have an impromptu guest over for dinner.
One Pan Chicken
2 medium boneless chicken breasts
1 bell pepper (any color), chopped
1 onion, chopped
1 zucchini, chopped
1 cup broccoli florets
½ cup grape or cherry tomatoes
2 tbsp olive oil
½ tsp salt
½ tsp freshly ground black pepper
1 tsp Italian seasonings
½ tsp onion powder
Directions:
1. Preheat oven to 500 degrees.
2. While the oven is preheating, chop all veggies into large chunks and place in a medium roasting dish or on a sheet pan.
3. Chop chicken into cubes and add to dish.
4. Add olive oil and spices. Toss to combine.
5. Bake for 15 minutes or until the veggies are becoming charred and the chicken is cooked through. If you chicken is in large chunks, cooking time may be a little longer.
6. Enjoy on it's own, or with a little brown rice, quinoa, or cauliflower rice.
This recipe suggestion is offered by Dr. Shillingford, M.D., P.A., a board certified surgeon specializing in advanced laparoscopic and obesity surgery. Dr. Shillingford's bariatric patients come from all over South Florida, including Boca Raton, Delray Beach, Wellington, Miami, Fort Lauderdale, and Coral Springs for his expertise in gastric sleeve, gastric bypass, and adjustable lap band surgery. Dr. Shillingford's bariatric patients are often seeking interesting recipes that are lower calories and carbohydrates but still high in protein. This One Pan Chicken ticks all the boxes, and tastes good too!