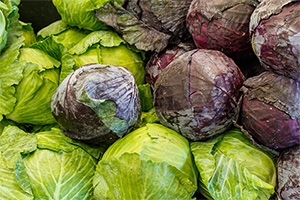 Kale has undoubtedly risen to health food fame. It's all over trendy restaurant menus, recipes, and in all those food videos you can't help but watch when they automatically play. Here's the thing: not everyone likes kale. Some are tired of it, some think kale overplayed its hand. Many are looking for something different. The next new food trend.
Is cabbage the new kale?
Sure, kale is good for you. Dr. Shillingford's weight loss patients are aware of kale's potential health benefits. It's also low in calories (good for reducing weight and obesity), low in carbohydrates (fits nicely into post bariatric surgery diet), high in fiber (helps keep you regular), plus it's packed with vitamins, minerals, and phytonutrients. But so is cabbage. And cabbage comes in some pretty cool colors.
Cabbage is a cruciferous vegetable (that's the same family as kale), which are known for their sometimes bitter taste and pungent smell. It's the healthful compounds in the cruciferous vegetables (namely glucosinolates) that give them their characteristic taste and smell, but don't worry they're good for you. Cabbage is notoriously low in calories (22 calories in 1 cup of raw cabbage) and is a good source of fiber (over 2 grams per cup), which is a winning combination for keeping you feeling full, promoting weight loss, improving digestion, lowering cholesterol, and encouraging normal blood sugar levels.
The phytonutrients in cabbage (and other cruciferous vegetables) have been getting a lot of attention for their health promoting properties. The compounds have been associated with: protecting against oxidative stress, reducing inflammation, reducing cancer risk, protecting the cardiovascular system, and boosting circulation. It does all of that while looking pretty, too. Cabbage comes in some pretty eye catching colors, including the traditional light green, red, and purple.
Many people think cabbage is only good for making calorie laden, mayonnaise based coleslaw, but it's good for so much more! In addition to slaw, you can use it in salads, soups, stews, braised in vegetable broth, and our favorite roasted cabbage wedges. If you haven't tried cabbage, make sure you wait for the right stage of your post op gastric sleeve diet, and give it a try!
For more information on Dr. Shillingford's post bariatric surgery diet and how cabbage can fit in, read more here. Dr. Shillingford, MD, PA is a board certified surgeon specializing in advanced laparoscopic surgery including gastric sleeve, gastric bypass, and lap band surgery. His weight loss surgery patients receive expert level care during their stay at Northwest Medical Center's Center of Excellence in Bariatric Surgery, where Dr. Shillingford proudly serves as Medical Director. If you're ready to get healthy, call Dr. Shillingford's office today at (561) 483-8840 and schedule your free informational session to learn more about if bariatric surgery is right for you.