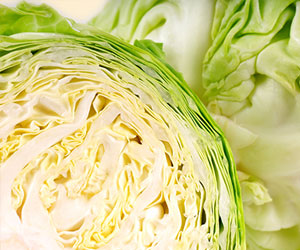 If you read our Food Highlight: Cabbage, you're probably waiting impatiently for more ideas on how to eat cabbage. Why? As we pointed out, cabbage is low in calories (40 per cup!), loaded with vitamins and minerals (including significant amounts of vitamin C, vitamin K, and folate), and chock full of antioxidants (20 different flavonoids and 15 different phenol compounds). As if gastric sleeve, gastric bypass, and lap band patients needed another reason to add cabbage dishes into their post bariatric surgery diet, cabbage is one of the lowest priced fresh vegetables you can find at the grocery store. And there's no great need to buy organic cabbage since it's on the Environmental Working Group's list of the Clean 15 fruits and vegetables, meaning cabbage has low levels of pesticides.
Ready to try more cabbage recipes now? We thought so.
This Roasted Cabbage Wedge recipe is really easy and it tastes good, too. Roasting the cabbage gives it a sweet flavor, and you can add in some savory spices to give this side dish a nice mix of sweet and savory. These wedges pair nicely with most proteins, including chicken, turkey, beef, pork, fish, and even egg dishes like frittatas.
Cabbage is low in calories and carbohydrates, making it a good choice for gastric sleeve, gastric bypass, or lap band patients. Unlike cole slaw (the top dish made out of cabbage), these roasted wedges only incorporate additional calories through heart healthy olive oil, making them an easy fit into a post gastric sleeve, gastric bypass, or lap band diet to help promote weight loss.
You can vary the spices you use each time you roast these wedges to change the flavor and add some variety.
Roasted Cabbage Wedges
Ingredients:
½ head cabbage (you can use a full head if you are feeding a lot of people)
Olive oil
Salt and pepper
Garlic powder
Onion powder
Directions:
Lay the cabbage half down flat on a cutting board. Cut in half through the core. Cut each section into 2 to 3 wedges depending on the size of the head and the size wedges you want. In order to prevent the wedges from falling apart, try to cut the slices to include some core in wedge.
Use a pastry brush to brush a small amount of olive oil onto each side of each wedge.
Sprinkle with salt, pepper, onion powder, and garlic powder.
Bake at 450 degrees for 10 minutes. Flip each wedge using tongs or a spatula and continue roasting another 10-15 minutes until the edges begin to brown.
The above recipe suggestion is offered by Dr. Shillingford, M.D., P.A., a Center of Excellence Surgeon specializing in advanced laparoscopic and obesity surgery. His surgical weight loss patients come from all over Florida, including Boca Raton, Miami, Tampa, Orlando, and Jacksonville, as well as from other states including Georgia, Ohio, Texas, Michigan, New York, and New Jersey. Dr. Shillingford's gastric sleeve, gastric bypass, and gastric band patients are frequently looking for simple yet delicious recipes that easily fit into their post bariatric surgery diet, and these cabbage wedges may be a welcomed addition.