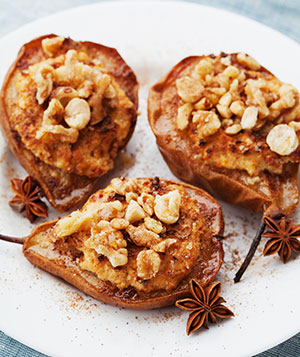 The concept is simple, easy, quick, and wholesome. The end result is delicious. If you are looking for a dessert that won't make you feel guilty this holiday, this is one to try. While the pears make this dish very traditional and seasonal, it's the smell of the baking pears that makes it magical. In order to promote health, wellness, and weight loss, it's important for bariatric patients to limit their caloric intake, even on holidays. But, Dr. Shillingford's gastric sleeve, gastric bypass, or lap band patients, may consider making this sweet and healthy treat the perfect end to your holiday meal.
Baked Pears with Honeyed Nuts
Adapted from skinnytaste.com
Ingredients:
2 large ripe pears
¼ tsp ground ceylon cinnamon
2 tsp honey (or maple syrup)
¼ cup crushed walnuts (or slivered almonds)
Directions :
Preheat oven to 350 degrees. Cut pears in half. Use a spoon or melon baller to scoop out the seeds. Lay pears on a baking dish cut side up. Divide nuts evenly and place into each hollow. Drizzle nuts with honey. Sprinkle with cinnamon. Bake for 30 minutes. Remove from oven, cool, and enjoy!
This recipe idea is offered by Dr. Shillingford, M.D., P.A., a board certified surgeon specializing in advanced laparoscopic and bariatric surgery. Dr. Shillingford's gastric sleeve, gastric bypass, and adjustable lap band patients come from all over South Florida, including Boca Raton, Delray Beach, Parkland, Miami, Fort Lauderdale, Naples, and West Palm Beach. With over 4,000 bariatric procedures performed, Dr. Shillingford has been proven a leader in weight loss surgery in South Florida. He encourages all his bariatric patients to make healthy food choices, even at holiday time.