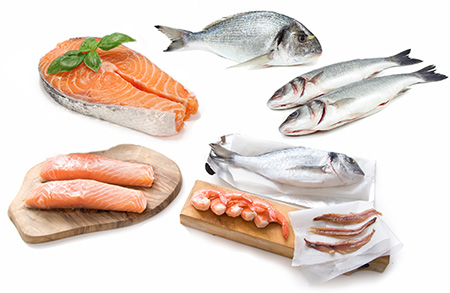 Many of Dr. Shillingford's gastric sleeve, gastric bypass, and lap band patients report difficulty with previously favorite proteins (like chicken and eggs) after their weight loss surgery. But as the saying goes, when one door closes another opens. Many bariatric patients report fish as an animal protein that they do tolerate well after their surgery. This is often surprising for people as they may not even have liked fish prior to their surgery.
Dr. Shillingford, a Boca Raton-based bariatric surgeon, has often encouraged his patients to try fish, even if they think they don't like it. Food preferences often change as a result of bariatric surgery and many patients are surprised to find how much they do actually like and tolerate different kinds of fish. Salmon, cod, tuna, halibut, mahi-mahi, shrimp, and flounder can make great options to try.
For gastric sleeve, gastric bypass, and lap band patients (as well as anyone else) who could use a few tips on how to cook with fish, Dr. Shillingford rounded up five tips to get you started:
Don't be afraid of frozen fish: Fresh fish might not always be as fresh as frozen fish. This is because some frozen fish is frozen nearly right after being caught. A good frozen fish should not smell fishy when it's defrosted. You don't even have to go to a fish market to find good frozen fish, you can find good quality frozen fillets in your grocery store or warehouse club. Thaw the individually vacuumed sealed fillets in a bowl of cool water, under running water, or by defrosting in the refrigerator.
Choose 'naked' fish: This means to opt for fillets that don't come with flavoring on them and don't come breaded. While these flavors may be yummy, they don't let you control the amount of seasonings and additives. There may be some good tricks for adding a low carb breading onto your fish to make it fit into your low-calorie low carbohydrate diet after gastric sleeve, gastric bypass, or lap band surgery, but you won't easily find those low carb options on premade frozen fish. For bariatric patients, buying 'naked' fish fillets is the best choice. You can control the amount of spice, added fats, and added sugars by flavoring the fish yourself. Dr. Shillingford has a few suggestions for mahi-mahi, salmon, halibut, and shrimp. More fish recipes can be found on Dr. Shillingford's Facebook page.
Pat your fish dry: If you plan on cooking your fish on the stovetop or oven, pat your fish dry first. Frozen fish fillets are packaged with a water solution surrounding them. Once you take the fillet out of the vacuumed sealed package, use paper towels or a clean towel to blot the water off. Then add your seasonings and cook according to your recipe.
Don't over-marinate: Acidic marinades can actually "cook" fish (think ceviche). If you are using a marinade on your fish, let it sit in the marinade only about a half-hour before cooking.
Try cooking it in a pouch: If you aren't a pro at cooking fish, cooking it in a pouch can be a great way to begin. Tear off a large piece of parchment paper or aluminum foil. On one side, lay your fillet, top with spices and vegetables of your choosing, then fold the other half of the parchment paper or foil over and tuck or fold the two seams together to create a pouch. Bake on a baking sheet in the oven according to the recipe. The fish and vegetables will bake and steam at the same time, creating a flavorful and moist meal in one pouch for easy cleanup.
Fish doesn't have to be expensive or fancy. In fact, fish can be a quick and economical low carb meal. You can bake, grill, steam, or poach it for a low-calorie breakfast, lunch, or dinner, but avoid frying it as the oil will add unnecessary calories that can impede your weight loss.
For more bariatric fish recipes, follow Dr. Shillingford's Facebook page, his Pinterest boards, and his blogs here and here. Dr. Shillingford, MD, PA is a board-certified surgeon specializing in gastric sleeve, gastric bypass, and lap band surgery as well as advanced laparoscopic and robotic surgery. To schedule your consultation, call his South Florida office at (561) 483-8840.