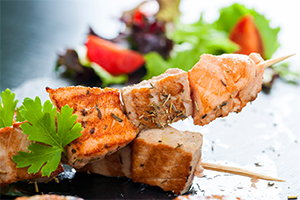 Fish is a good choice of protein for diabetics since it's frequently low in fat, carbohydrates, and calories. While frying fish is a common way to prepare it, the frying process adds lots of fat and calories, which is not good for your weight loss efforts or for your heart. Grilling fish can be a much better choice.
One way to grill fish is on skewers. The smaller pieces means the fish cooks quickly, and can make it easier for bariatric patients to control their portion sizes. Controlling portion sizes is important for both diabetics and gastric sleeve, gastric bypass, and lap band patients as following their prescribed diets is crucial to both good health and weight loss.
For those with type 2 diabetes, preparing meals with high quality protein while still keeping the carbohydrate content on the lower side is ideal. Pairing fish skewers with grilled zucchini, grilled asparagus spears, roasted peppers, cauliflower rice, or a fresh tomato and avocado salad can be tasty, filling, and low in carbohydrates.
Marinated Fish Skewers
¾ lb fresh white fish (sea bass, halibut, or snapper work well)
2 tbsp olive oil
2 tbsp lemon juice
1 tbsp fresh chopped parsley
1 clove minced garlic
½ tsp each paprika and sea salt
A couple of dashes of each turmeric, cumin, and cayenne
Lemon wedges
Directions:
In a bowl, whisk together oil, lemon juice, parsley, and spices
Cut fish into chunks of about 1 to 1½ inch
Place fish chunks in a rimmed pan. Pour marinade on top. Cover and set in the refrigerator for at least 30 minutes.
In the meantime, soak skewers in water.
Preheat your grill.
Place fish chunks on skewers.
When the grill is hot and has been greased, add skewers and cook for about 10 minutes, turning after about 5 minutes. Fish should be cooked through and browned at the edges.
Remove from grill and enjoy with fresh lemon wedges.
For more information on type 2 diabetes, please check out Dr. Shillingford's other website www.obesityanddiabetes.com. As obesity is a risk factor for type 2 diabetes, many of Dr. Shillingford's bariatric patients are also diagnosed with diabetes. Weight loss can help blood sugar levels and often times bariatric surgery can lead to the remission of type 2 diabetes. If you are obese and have type 2 diabetes, gastric sleeve, gastric bypass, or lap band surgery may help significantly improve both your weight and your health. For more information, call Dr. Shillingford's Boca Raton office today at (561) 483-8840.