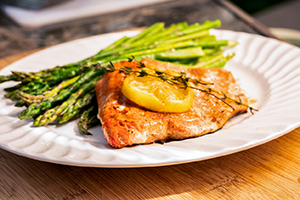 Many gastric sleeve, gastric bypass, and lap band patients report some difficulty tolerating their usual protein choices following weight loss surgery. Chicken is often a favorite protein option due to it's high protein content, low fat content, mild flavor, and availability. But some bariatric patients are surprised to learn that their post surgical body does not tolerate chicken like it used to. The same can be true for other meats, like beef, pork, and turkey as well. Each bariatric patient is different, and every patient experiences different preference changes.
For weight loss surgery patients who are having trouble swallowing or tolerating poultry, beef, or pork, they may find seafood may be easier to tolerate. Even if they did not like seafood before their bariatric surgery, the natural changes in taste preferences that occur after surgery may shift their preferences toward seafood.
Seafood can be a good choice even in the beginning stages of regular textured protein stages of your post op diet (see Dr. Shillingford's Post Op Bariatric Diet). Fish can be flaky and tends to be moist, which can help promote weight loss patients tolerating this protein option. Tuna, whitefish, and salmon are commonly tolerated seafood options. Salmon, in particular, is loaded with high quality protein (17 grams in 3 ounces), and is full of heart healthy omega 3 fatty acids. These healthy fats help prevent the salmon from being dry. Dry foods are frequently not tolerated by gastric sleeve, gastric bypass, and lap band patients, especially in the early stages of their post op diet.
For bariatric patients looking to try salmon, but are overwhelmed with recipes or not sure how to cook salmon, we've got an easy recipe to try. Salmon with Lime and Asparagus can be cooked all in one pouch for easy preparation and even easier clean up, which leaves you more time to exercise and maximize your weight loss efforts.
Salmon and Asparagus with Garlic and Lime
1 pound salmon
½ pound asparagus (leave this out if you are not at the stage of eating cooked vegetables)
1 clove garlic, minced
1 lime (cut in half- one half will be used for juice and zest, the other half should be sliced thinly)
Directions:
LIne a small baking sheet with foil. Spray with cooking spray if desired. Lay salmon fillet on foil with asparagus on both sides.
Top with minced garlic and juice and zest from ½ the lime. Add the lime slices on top.
Bring up all sides of the foil to form a pouch. Bake foil pouch at 375 degrees for 15-20 minutes until salmon is cooked through. If desired, open foil pouch and broil for a couple minutes to crisp the top.
For more information about gastric sleeve, gastric bypass, and lap band surgery, see Dr. Shillingford's website. Dr. Shillingford, MD, PA is a board certified surgeon specializing in weight loss surgery and advanced laparoscopic and robotic surgery. Dr. Shillingford proudly serves as Medical Director at Northwest Medical Center's Center of Excellence in Bariatric Surgery, where patients receive outstanding care during their overnight stay. Follow up care in Dr. Shillingford's Boca Raton office is augmented by his Nutrition Support Group and his new Online Support Group. For more information on bariatric surgery and support groups, please call Dr. Shillingford's office at (561) 483-8840.