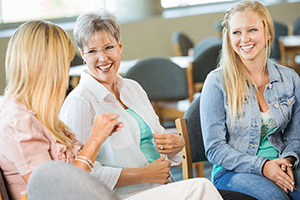 What are the benefits of support groups for weight loss?
Meeting regularly helps enforce a sense of accountability.
Encourages collaboration of ideas (for menus, recipes, exercise habits, etc).
Learn valuable information from health professionals.
Meet others in a similar situation.
Find a group or buddy to call upon when you need help or motivation.
Provide motivation to stay on or get back on track.
Allows a forum to ask questions and receive feedback from people who know and have been where you are.
Seeing all the other people who are in a similar situation is a powerful visual tool to help you remember that you are not alone on your weight loss journey.
Now that we've (hopefully) motivated you to join or attend a support group, how do you find one? You can usually find support groups through your bariatric surgeon, at your local hospital or the hospital where you had your surgery, online, social media, through a gym, or sometimes through your local towns/city.
For Dr. Shillingford's bariatric patients, several support groups are available:
In Person Nutrition Support Group Meetings- second Monday of each month at 6pm
Online Support Group meetings- offered each month on a different day
NWMC Bariatric Support Group- 4th Thursday of each month 6:30-7:30 pm
NWMC Bariatric Support Facebook Group- Request to join here
Online Resources: Bariatric Pal or ObesityHelp are good places to start
Dates, times, and locations can change so it's always best to refer to Dr. Shillingford's Calendar of Events to plan which support group(s) to attend. Dr. Shillingford's gastric sleeve, gastric bypass, and lap band patients receive an email newsletter with the dates and times of the In Person and Online Support Groups and links to RSVP. If you would like to sign up for Dr. Shillingford's monthly newsletter, please add your contact information here. For more information about bariatric support groups, please call Dr. Shillingford's Boca Raton office at (561) 483-8840 or email Amy.