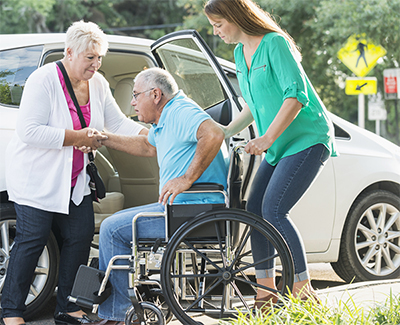 In addition to performing gastric sleeve, gastric bypass, and lap band surgeries, Dr. Shillingford, MD, PA, is also renowned for his skills in performing laparoscopic and robotic surgeries, including hernia surgery. Many bariatric patients are at a higher risk of hernias, largely due to a history of obesity. Dr. Shillingford is a highly skilled surgeon specializing in both general surgery (such as for inguinal hernia, femoral hernia, and hiatal hernia, gallbladder surgery, appendectomy, or polypectomy) and bariatric surgery (gastric sleeve, gastric bypass, gastric band, and revisional surgery). This puts him in a unique position to help bariatric patients requiring surgical hernia repair.
Preparing for pre- and post-hernia repair surgery can help make the experience smoother. Specific tips for recovery from hernia surgery will depend on the type of hernia being repaired (inguinal hernia, hiatus hernia, femoral hernia, umbilical hernia, or incisional hernia) as well as the type of surgery (laparoscopic or open). While you should always follow the advice of your surgeon and hospital, Dr. Shillingford's office has gathered a few tips to help make your recovery smoother:
Before Surgery:
Driving may be difficult after surgery. Prepare your space for your return from the hospital. Have enough food and drinks available in your home so you won't have to go to the grocery store right away.
Consider stocking up on disposable dishes and utensils. Using disposables to limit the amount of dishes that will need to be washed may help you take it easy after surgery.
Consider preparing meals ahead of time. Keep them refrigerated or frozen. Alternately consider a delivery service for your meals.
Expect to be tired after your hernia surgery, so do any major chores or tasks ahead of time. This includes making any important decisions.
Arrange to have your pets taken care of while you're in the hospital, and possibly for a few days after.
Arrange for a responsible adult to be ready and available to bring you home from the hospital. If you can't find a friend or family member to drive, have the number to a taxi driver in your phone, or consider an on demand private driver (like Uber or Lyft).
Arrange your pain medication with your doctor.
After Surgery:
Read your discharge instructions carefully, and keep them nearby to refer to when you get home. Take a photo so if you misplace the papers you'll have the information in your phone.
Have your doctor's phone number programmed into your phone in case you have questions.
Keep your phone charged and nearby in case of an emergency.
Have a pillow handy to cover your abdomen in case you cough or sneeze.
Have a receptacle ready and nearby in case you get nauseous or vomit (a possible side effect of anesthesia and sometimes pain medication).
It is important to prevent constipation. Eat foods high in fiber, fruits, and vegetables, as well as plenty of fluids. Ask your doctor about a stool softener or laxative, if necessary.
Try walking as much as possible. It increases circulation and can speed healing without straining your abdomen. You may not be ready for walking a dog just yet, your pace may be a little slower than usual and you may not be ready for dealing with other dogs on your walk (or squirrels).
These tips and suggestions are offered by Dr. Shillingford, MD, PA, a board certified surgeon specializing in laparoscopic, robotic, and bariatric surgery. Dr. Shillingford performs hernia surgery for inguinal hernia, hiatus hernia, femoral hernia, umbilical hernia, and incisional hernias. Although his practice is located in Boca Raton, Florida, he treats patients from all over South Florida, including Coral Springs, West Palm Beach, Miami, Fort Lauderdale, and even further distances like Orlando and Jacksonville.