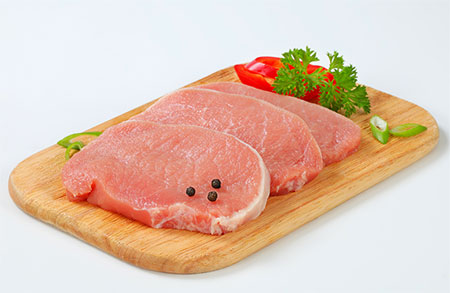 Soft proteins (such as cheeses, flaky fish, and beans) are often easily tolerated by gastric sleeve, gastric bypass, and lap band patients. But, once your new stomach is able to tolerate harder, denser proteins (often around Stage 5 of Dr. Shillingford's post-op diet), adding them into your bariatric diet definitely has a benefit. Denser proteins (like lean chicken, turkey, pork, and beef) take longer to digest than their softer counterparts. This means that eating harder proteins can lead to feeling fuller for longer. Since harder proteins can take longer to eat, you may also consume less. Both of these benefits can help to maximize weight loss. Two important things to remember are to take small bites and to chew your food to a paste consistency prior to swallowing.
Bariatric patients often complain that white meat chicken is difficult to digest. For some, pork can be a better option. Pork tenderloin can be a good option if you are feeding a family or a group, but if you're cooking for one or two, pork chops can a lot easier. You can individually freeze each chop and pull out whatever amount you need from the freezer to thaw. While you could experiment with this recipe by adding broth and cooking in an Instant Pot if you still need your food on the softer side, this tangy ranch pork chop recipe is oven-baked.
Oven-Baked Tangy Ranch Pork Chops
4 boneless pork chops (~1 pound total)
1 envelop dry ranch seasoning mix
½ cup dijon mustard
1 tsp fresh chopped parsley
1-2 cups trimmed green beans
Salt and pepper, to taste
Directions:
Preheat oven to 375 degrees
Trim excess fat off the boneless pork chops.
In a small bowl, mix together ⅓ cup of mustard, chopped parsley, and the ranch seasoning packet. Rub the mixture all over the top, bottom, and sides of the pork chops.
Spray a large baking dish with cooking spray. Place the pork chops in the dish.
Mix the remainder of the mustard with the trimmed green beans, season with salt and pepper.
Place the green beans around the pork chops in a single layer in the baking dish.
Bake for about 20 minutes, until the green beans are soft and the pork reaches an internal temperature of 145 degrees.
It's important for you to know your body and what your new stomach can and can't handle. But, this will require some trial and error. If you try a denser protein and realize you have difficulty swallowing it or it makes you feel nauseous, go back to the proteins you know you can tolerate. But after some time passes, try the previously offending food again. As your stomach heels, you will be able to tolerate different things. It's important not to rush into trying foods too fast. But it's also important to try things again after some time has passed. Listen to your body- each bariatric patient is different and only you know what you can tolerate.
For more recipes, go to Dr. Shillingford's blog page, Dr. Shillingford's Facebook page, or his Pinterest board. Dr. Shillingford, MD, PA is a board-certified surgeon specializing in advanced laparoscopic and obesity surgery. His gastric sleeve, gastric bypass, and lap band patients have long recognized him as a leader in the field of bariatric surgery. As the Medical Director of Northwest Medical Center's Center of Excellence in Bariatric Surgery, his colleagues have also recognized him as a leader. To schedule your consultation for weight loss with gastric sleeve, gastric bypass, or lap band surgery, call Dr. Shillingford's South Florida office at (561) 483-8840.