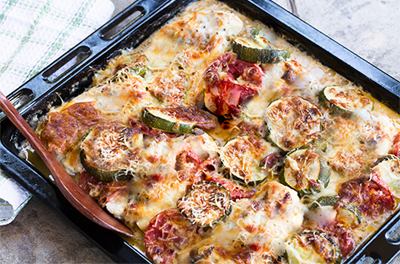 High protein dinners that you can cook in one pan are perfect for weeknights. Fewer dishes mean less cleanup. That means you have more time for things like work, family time, exercise, and other important things. Keeping the protein high and the carbohydrates low is the ideal way to maximize weight loss after gastric sleeve, gastric bypass, and lap band surgery.
We came across this recipe and thought many of Dr. Shillingford's patients would enjoy it. This Baked Italian Chicken and Vegetables dish is high in protein thanks to the chicken, bacon, and cheese. You can customize the vegetables you add to suit your preferences. The recipe calls for zucchini, artichoke hearts, and fresh tomatoes which are all low in carbohydrates. Some other good choices could be mushrooms, broccoli, asparagus, and eggplant.
As always after weight loss surgery, it's important to eat slowly, take small bites, and chew each bite very well. One chicken breast may be too big for a serving. You can cut them in half, then stop eating when your new stomach says it's full. As this recipe uses chicken breasts, it's not suggested for bariatric patients that have not yet advanced to Stage 5 of Dr. Shillingford's Post-Op Diet. For those bariatric surgery patients who prefer to eat chicken thighs, the recipe could be altered to use boneless, skinless chicken thighs with some adjustments to cooking time.
Ingredients
4 chicken breasts
1 tablespoon basil, dried
1/4 teaspoon salt
1 zucchini, sliced
1 cup cherry tomatoes, yellow and red, mixed, each sliced in half
1/2 can artichoke hearts, sliced
6 slices bacon, cooked, drained, chopped (OPTIONAL)
1 cup Mozzarella cheese, shredded
Instructions
Preheat oven to 375 F.
Add chicken breasts to the white casserole pan.
Sprinkle dried basil and salt over the chicken.
Top with sliced zucchini, sliced cherry tomatoes, and sliced artichokes.
Top with chopped bacon.
Top with shredded mozzarella cheese.
Bake for about 20-30 minutes until the chicken is cooked through.
Remove from the oven.
Let the Italian chicken sit in the casserole dish for at least 10-15 minutes to allow the meat to cook through completely.
For more recipe and meal ideas after gastric sleeve, gastric bypass, or lap band surgery, attend one of Dr. Shillingford's monthly Nutrition Support Meetings. These meetings are free for Dr. Shillingford's bariatric patients and are held on the second Monday of each month. Dr. Shillingford's Boca Raton office is conveniently located for weight loss surgery patients in Coral Springs, Miami, Fort Lauderdale, and West Palm Beach. For those patients who traveled for their gastric sleeve, gastric bypass, or gastric band surgery, online support group meetings are also held monthly. Call Dr. Shillingford's office for more information at (561) 483-8840.