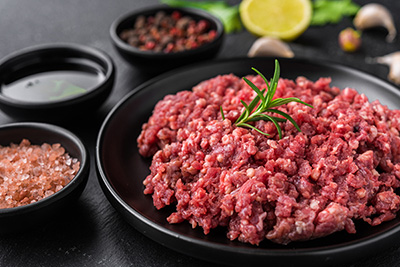 Two things weight loss surgery patients need to focus on after their gastric sleeve, gastric bypass, or lap band surgery are portion control and protein. These mini meatloaves got you covered on both!
By making meatloaf in a muffin pan you are already controlling the portion size. To make these meatloaves in a specific ounce portion size, use a measured scooper to get the size perfect. The size you want may vary depending on how far along you are after your gastric sleeve, gastric bypass, or lap band surgery. If your muffin pan makes muffins on the larger side, you may find it easier to cut the meatloaf in half or even quarters to make more manageable portions.
Between the ground beef and eggs, these meatloaves are packed with high quality protein. Protein should be the first thing you focus on at mealtime after bariatric surgery. After protein, the next focus should be vegetables. You can opt to try adding minced vegetables into the meatloaf mixture, or serve steamed, roasted, or grilled low carbohydrate vegetables on the side. By limiting your overall calories and ensuring you get enough protein, you are setting the stage for successful weight loss after gastric sleeve, gastric bypass, or gastric band surgery.
Mini Meatloaves in Muffin Molds
1 ½ lbs lean ground beef
1 onion, minced
1 clove garlic, minced
⅔ cup lower sugar ketchup
1 dash Worcestershire sauce
½ cup fresh parsley, finely chopped
3 eggs, beaten
½ tsp thyme
Salt and pepper to taste
Directions:
Combine all ingredients in a large bowl and mix being careful not to overmix.
Preheat the oven to 350 degrees.
Either spray muffin cups with nonstick spray or line the bottoms with parchment paper to prevent sticking.
Fill each of the muffin cups with using a spoon or use the measured scooper to get a specific portion size.
Bake 15-20 minutes (depending on the size) until thoroughly cooked to temp of at least 160.
Serve immediately, or freeze for a future meal.
Serve with Roasted Cabbage Wedges, grilled asparagus, fresh red pepper strips, or any other low carb yummy side dish you enjoy.
This recipe suggestion is offered by Dr. Shillingford, MD, PA, a board certified surgeon specializing in advanced laparoscopic and obesity surgery. Dr. Shillingford performs gastric band, gastric bypass, and lap band surgeries for obese and overweight patients with a BMI>33. Often his patients present with comorbidities, such as diabetes, hypertension, high cholesterol, sleep apnea, as well as other medical conditions that can be improved or reversed with weight loss and a controlled diet. Dr. Shillingford takes great pride in helping his patients improve not only their appearance, but also their health and well being. While Dr. Shillingford is primarily using telehealth at this time to see his patients, he and his staff are working tirelessly to serve the needs of his patients with skill and compassionate care.