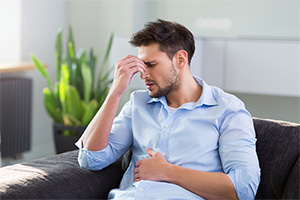 In Dr. Shillingford's previous blog How Chronic Stress Can Affect Your Health, we detailed the signs and symptoms of chronic stress, as well as several health conditions that can result from chronic stress. It was a popular blog for Dr. Shillingford's Facebook page blog readers, so a follow up seemed in order.
Managing chronic stress can help you regain some control over your life and can reduce or eliminate many of the health effects chronic stress can induce (such as hypertension, type 2 diabetes, obesity, and infections). There are a number of strategies to help you reduce chronic stress, and we've gathered a few:
Understanding the signs and symptoms: These can vary from person to person, so you will have to get to learn your signs of stress. These can be headaches, fatigue, changes in appetite, difficulty sleeping, or many other signs. Once you know your signs you will be better able to manage them. For example, if you overeat when dealing with chronic stress you can learn how to identify when you are overeating due to stress and how to prevent or limit it.
Utilizing your support system: Friends, family, neighbors, and coworkers can all be a great source of support when you need someone to talk to. They can also be there to help motivate you to keep going, whether it's with weight loss, or exercise, or something different all together.
Identify triggers: You may not be able to avoid all of the triggers (like free samples at the grocery store if you are trying to lose weight), but you can identify them and develop coping strategies and ways to manage your reactions.
Exercise regularly: Exercise can help your body create endorphins, which are natural mood boosters. Regular exercise can also help boost self esteem and can help you work out your frustrations all while being good for your body.
mindfulness: Practicing mindfulness and/or meditating can help relieve stress while it increases your awareness of your body and your surroundings.
Make sure you get adequate sleep: Duration and quality of sleep are so important to a healthy body and mind. In addition to getting at least seven hours of sleep each night, having regular times for going to bed and waking up help you set a positive routine that often times can help reduce stress. Avoiding caffeine, electronics, and intense exercise before bed can induce a more restful sleep and help you wake up ready to tackle a new day.
If the strategies above do not offer you any relief of your chronic stress, you may find support through a healthcare professional, such as a doctor, therapist, psychiatrist, social worker, dietitian, or a combination of these professionals. Chronic stress can affect the person, their body, and even those around them. Seeking help for managing stress can be viewed as a positive thing for you as well as those around you and those who love you.
For Dr. Shillingford's gastric sleeve, gastric bypass, and lap band patients who feel they would benefit from a healthcare professional to help them better manage their chronic stress, Dr. Shillingford can make a referral to a Boca Raton based psychiatrist, Dr. Kothari, MD, who has worked with weight loss patients for over a decade. For more information on gastric sleeve, gastric bypass, lap band surgery, or managing chronic stress, call Dr. Shillingford today at (561) 483-8840.