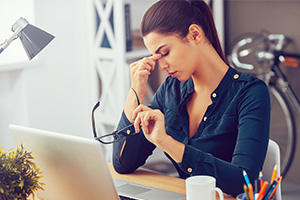 Stress is a pretty common occurrence among adults, and holiday time can add to it. We've all felt the effects of stress at one time or another due to a deadline, test, or an emergency- the fast heart beat, the sweating, the heightened state of alertness. But chronic stress- stress that does not subside, but rather persists- can put pressure on the body that can lead to negative side effects.
Chronic stress can be brought on by a wide variety of issues. Work and career are often a large source of chronic stress, as are financial difficulties, and challenging relationships including with family, friends, neighbors, or coworkers. These stressors may not be present everyday, but their presence in your life can feel like shackles preventing you from being able to move forward.
Our bodies react to stress by releasing hormones- namely cortisol and adrenaline. The pressures plus the out of balance hormone levels can actually cause significant harm to your body, which in turn can make you feel worse. Sometimes it's hard to imagine stress can affect your body, but these are some signs and symptoms of stress:
Irritability
Headaches
Fatigue
Difficulty concentrating
Difficulty sleeping
Digestive problems
Changes in appetite (can be increased or decreased appetite)
Low self esteem
Nervousness
These symptoms can vary widely from person to person and you do not need all of them to be present to consider yourself under chronic stress. But, if chronic stress and it's physical and emotional manifestations continue, it can further take a toll on your body. Over a long period of time, chronic stress can affect you in one or more significant ways:
High blood pressure
Heart disease
Obesity
Weakened immune system
Insomnia
Infections
Sexual dysfunction
Mental health disorders (anxiety, depression, PTSD, schizophrenia)
If chronic stress could be a source of your negative health status, determining the cause of the stress and managing it may be the ideal method to help you restore your health. Talking to your primary doctor or mental health professional can be a great first step.
For those who are suffering from obesity, high blood pressure, and type 2 diabetes or prediabetes, and are unable to lose weight with diet and exercise, bariatric surgery may be a solution. While gastric sleeve, gastric bypass, or lap band surgery may not solve your primary source of stress, it can help you manage your weight, blood pressure, and blood sugar. For more information on gastric sleeve, gastric bypass, or lap band surgery, schedule a free informational session with Dr. Shillingford, MD. Dr. Shillingford is a Boca Raton based bariatric surgeon specializing in advanced laparoscopic and weight loss surgery. His gastric sleeve, gastric bypass, and gastric band patients receive top notch care at Northwest Medical Center's Center of Excellence in Bariatric Surgery, where Dr. Shillingford proudly serves as Medical Director. Call his office today at (561) 483-8840 and start to take your health back.