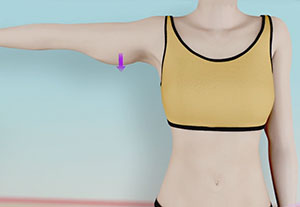 People carry excess weight in different places. For many obese people, even people who have lost their excess weight after bariatric surgery, they carry excess fat and skin in their upper arms. This drooping or wobbling skin is unaffectionately called "bat wings."
Exercise can help reduce overall weight and can help with loose skin. But once overweight and obese patients have lost their excess weight with gastric sleeve, gastric bypass, or lap band surgery, they may still have loose skin on their upper arms.
Strengthening and toning the muscles in the upper arms can help reduce the appearance of "bat wings." The muscles of the upper arms are the biceps (in front) and triceps (in the back of the arm). The triceps are often weaker as they are not used as frequently for regular activities like lifting and carrying things. Strengthening the triceps can reduce the appearance of "bat wings."
The following strengthening exercises can help improve tone and build muscle mass in the upper arms:
We cannot target certain body parts to lose weight, so overall weight loss like the significant weight loss that follows gastric sleeve, gastric bypass, and gastric band surgery is ideal for people who suffer from morbid obesity. Exercise and muscle strengthening activities are encouraged for all weight loss surgery patients who have been cleared to exercise by Dr. Shillingford or their bariatric surgeon following their bariatric surgery. While it may be that no amount of exercise or strengthening will reduce the amount of excess skin following significant weight loss, improving muscle tone and size can help reduce the appearance of loose skin, like "bat wings."
This information is offered by Dr. Shillingford, MD, PA, a Center of Excellence Surgeon specializing in gastric sleeve, gastric bypass, and gastric band surgery. Dr. Shillingford's reputation for excellent surgical skills and comfortable bedside manner attract patients from all over Florida, including Miami, Tampa, Fort Lauderdale, Orlando, and Jacksonville. His weight loss surgery patients receive top notch care during their hospital stay at Northwest Medical Center's Center for Excellence in Bariatric Surgery, where he serves as Medical Director, and during their follow up care in his Boca Raton office.