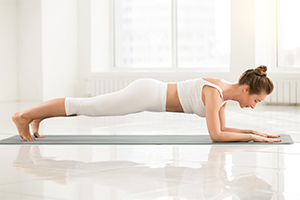 With the news that sit ups aren't as good for us as we previously thought, planks have quickly risen up as the new move to do. Although they are a stationary pose, planks give your muscles a solid workout without harming your back like sit ups can.
This is good news for exercisers with obesity. Sit ups had a habit of turning people off to workouts. For people who are overweight or obese, forgetting about sit ups and instead including planks can change their attitudes about exercising. Exercise, including strength training exercise, is crucial to weight loss and improving overall health. In addition to adding lean muscle and promoting weight loss, exercise can help improve blood sugar levels in people with type 2 diabetes. For gastric sleeve, gastric bypass, and lap band patients, incorporating planks into their exercise routine (after getting your doctor's ok to exercise after surgery) can be a great way to incorporate strengthening exercises that can be done at home with no equipment.
Planks are a good way to strengthen a variety of muscle groups at once. Holding a plank helps develop muscle strength in the shoulders, arms, glutes, and the core (which includes your abdominal muscles).
Planks may look easy, but they are anything but. At least they are easy to get the hang of. Follow these steps to try a plank:
Get into pushup position on the floor
Bend your elbows 90 degrees and rest your forearms on the floor
Your toes should be holding up the lower half of your body
Your body should form a straight line from your shoulders to your heels
Your elbows should be directly under your shoulders
Hold this position for as long as you can
A few seconds may be all you can hold when you first start planking. But, with practice and patience you should be able to work your way up to holding it for over a minute. Try to set a goal of holding a plank for 2 minutes. Once your mastered the plank, try a variation of the plank- side plank, one legged plank, one arm plank, or reverse plank.
The above is offered by Dr. Shillingford, M.D., P.A., a Center of Excellence Surgeon specializing in gastric sleeve, gastric bypass, and lap band surgery. Dr. Shillingford's reputation for excellent surgical skills and comfortable bedside manner attract patients from all over Florida, including Miami, Fort Lauderdale, Boca Raton, Tampa, Sarasota, Orlando, and Jacksonville. His bariatric weight loss patients receive top notch care during their hospital stay at Northwest Medical Center's Center for Excellence in Bariatric Surgery, where he serves as Medical Director, and during their follow up care in his Boca Raton office. But, it's up to the patients themselves to incorporate exercise into their daily lives to make the most of their weight loss efforts and planks are a great addition to an exercise routine.