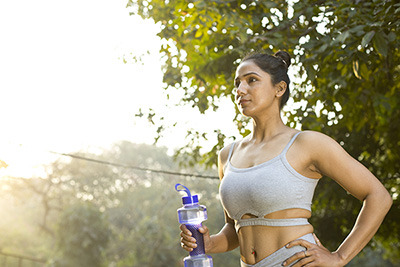 Although many states are lifting some pandemic restrictions, a lot of people are continuing to practice social distancing and keeping their workouts at home. Since many of us are at home more often, regular exercise has become even more crucial. Exercise is important not only for weight loss but for building lean muscle, stress relief, improving blood pressure, reducing blood sugar, improving heart health, and more.
There are a wide variety of exercises gastric sleeve, gastric bypass, and lap band patients can do in the safety and comfort of your own home or yard (Dr. Shillingford offers some suggestions here). But, if your body is telling you to kick your workout routine up a notch, we've got some ideas for household items you can add to your workouts.
Fill individual water bottles with water or sand to use as hand weights. Traditional soup cans work well also.
Fill a half-gallon or gallon jugs with water or sand. Use duct tape or socks to affix to a metal pole to create a dumbbell.
Pack books in a backpack (add a towel for some padding). You can wear it during squats or lunges. Or, use it as a medicine ball.
Tie pantyhose, tights, or leggings together to form an oval about 20 inches long. You can use this as resistance bands.
Use a chair or stool to create an incline for your push-ups. A sturdy chair also works well for chair dips.
Tie plastic grocery bags together to form a chain. Make 3 chains, then braid them together to make a DIY jump rope.
A broom, piece of PVC pipe, tree limb, or even a rolled-up towel held over your head during squats and lunges will help you engage your core and add an upper body workout during your lower body workout.
Although exercise is crucial for maximizing weight loss after bariatric surgery, it is even more crucial to wait until you have been cleared to exercise by Dr. Shillingford (or your bariatric surgeon). Prior to being cleared, walking is a great activity. After you have been cleared to exercise, begin slowly, and monitor what your body is telling you. Hydration is also key. Make sure you can drink 64 ounces of noncaloric fluids after your gastric sleeve, gastric bypass, or lap band surgery. Exercise can increase your hydration needs, so ensuring you can adequately hydrate before beginning an exercise regime is important.
Dr. Shillingford, MD, PA, is a board-certified surgeon specializing in advanced laparoscopic and weight loss surgery. Dr. Shillingford's reputation for surgical excellence has made him a leader in the field of bariatric surgery in South Florida, serving nearby Miami, Fort Lauderdale, Wellington, West Palm Beach, and Coral Springs. To schedule your appointment with Dr. Shillingford, MD call his Boca Raton office today at (561) 483-8840. Stay tuned for news of a Treasure Coast office coming soon!