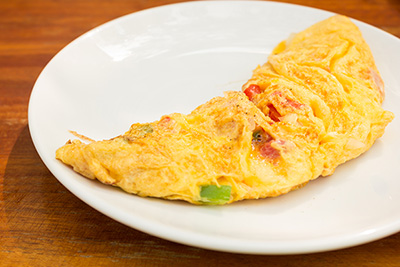 Eggs are a food that many bariatric surgery patients eat a lot of. And for good reason: they are full of high quality protein and no carbs. One egg has 75 calories, 7 grams of protein, iron, vitamin A, lutein, zeanthanin, and B12 among many other beneficial nutrients..
But eggs can be tricky for many post op gastric sleeve patients. The texture can be difficult to tolerate, especially in the early stages after weight loss surgery. Gastric sleeve patients who have advanced in Dr. Shillingford's post op gastric sleeve diet stages, can get bored of the same old ways of cooking eggs, and may be looking for a way to add variety to their egg dishes.
We've got a hack that can produce some of the fluffiest eggs you can get in the comfort of your home. And the secret is not in any extra ingredient that can add calories to your meal. The secret is in the method of cooking.
Crack your egg (or eggs) and separate the white from the yolk. Season the yolk with salt and pepper, add a dollop of plain greek yogurt if desired. Beat your egg white until it forms stiff peaks. Stiff peaks will look like little mountains that stay put when you lift the mixer out of the egg white. Once you've achieved stiff peaks, fold the egg yolk into the egg white. Cook the eggs in a pan with cooking spray over low-medium heat to create an omelet. If you want to add extra protein to your omelet, do not add it to the egg mixture. It will be too heavy for these light eggs. Instead, add cheese, ham, or other protein into the middle of your omelet after it's cooked.
Are you ready to try it?
For more recipes, nutrition information, facts about weight loss with gastric sleeve surgery, and more, please like Dr. Shillingford's Facebook page and check back to his blog often. Dr. Shillingford, MD, PA is a board certified surgeon specializing in advanced laparoscopic and obesity surgery. His gastric sleeve, gastric bypass, and lap band patients receive superior care during their overnight stay at Northwest Medical Center's Center of Excellence in Bariatric Surgery, where Dr. Shillingford proudly serves as Medical Director. His Boca Raton office is conveniently located for follow up care for his weight loss surgery patients coming from local areas such as Miami, Fort Lauderdale, Delray Beach, West Palm Beach, and Coral Springs. His weight loss surgery patients have great things to say about their surgery and their care under Dr. Shillingford. Read their testimonials here and then call Dr. Shillingford at (561) 483-8840 to schedule your free informational session and start your weight loss journey today.