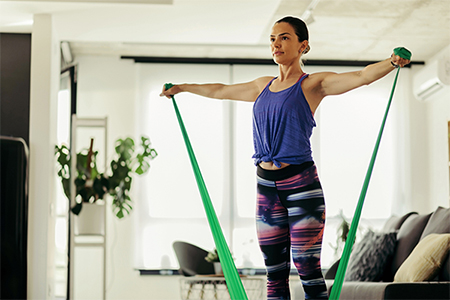 Exercise is critically important for everyone, but especially for gastric sleeve, gastric bypass, and lap band patients. First, exercise is key for weight loss, which is the goal of bariatric surgery along with the health benefits associated with weight loss. But exercise also helps to build muscle mass, relieve stress, improve sleep, and so much more.
Going to a gym to work out has been an inconceivable task for many obese and overweight adults for a variety of reasons. One positive about the changes in the age of COVID is that exercising at home no longer has negative connotations around it. Exercising at home, whether individually or in a virtual group setting has become common practice for so many people. This is fantastic news for many bariatric patients as it can eliminate one more barrier to exercising.
You can do it in the safety and privacy of your home. At whatever time is convenient for you. In whatever outfit works best for you. Using whatever method of exercise you enjoy the most (or hate the least as the case may be). If you can do exercise consistently and safely at home, it can be a great choice.
Body weight exercises and aerobic activities (like dancing, jogging, walking, or swimming) can easily be done at home without any equipment. Tons of videos can be found online to tailor your workouts to your preferences or needs, often for free. There are also some simple pieces of exercise equipment that can expand your exercise routine while promoting weight loss and muscle gain. The best part is they are all small enough to store out of sight in between uses so your home doesn't look like a gym.
Resistance Bands- These stretchy bands pack up really small to fit in a drawer. Take them out and add them to your arm, leg, and core exercises to amplify your workout. They are fairly inexpensive and come in a variety of sizes and resistance levels, allowing you to pick the best option for you.
Jump Rope- This may remind you of elementary school. But while this simple piece of exercise equipment is easy on face value, it can also be challenging. Once you've remastered the movement, you can challenge yourself to skip rope so many times until you falter or set a stopwatch to challenge yourself to go longer. There are many ways to incorporate a jump rope into your workout, and all of them are almost guaranteed to get your heart pounding.
Dumb bells- Dumb bells are another versatile and inexpensive piece of at home strength training equipment. They come in a variety of weights, but you don't need a whole set to get in a good workout. A quick web search of dumb bell workouts can show you ways to use these small weights in ways that are easy to use, effective, and very creative. Tuck them under a chair, bed, or desk when you aren't using them.
Kettlebells- Kettlebells are great for core strength, dynamic balance, and also for boosting your aerobic capacity according to the American Council on Exercise. They also come in a variety of weights and colors. They can easily be added into your bodyweight exercises to add additional resistance and burn some extra calories.
Doorway Pull Up Bar- For far less than a pair of sneakers, you can buy a doorway pull up bar. A pull up bar is easy to install and can be kept in a not so obvious doorway (like a closet) so it doesn't intrude on your nice spaces. Chin ups and pull ups can be great exercises for more than just your arms. These exercises work your back and core, too (even if you're still working to master the full pull up or chin up). You can also add in some core exercises like knees to elbows, L-sits, or tuck holds.
Gastric sleeve, gastric bypass, and lap band patients should only begin exercising after being cleared by Dr. Shillingford, MD, PA, or their bariatric surgeon. Once cleared for exercise and strength training, it's best to start slowly and listen to your body. When choosing equipment it's a good idea to err on the side of caution and buy lighter weight equipment. Lifting too much weight can increase the possibility of injuries. You can always increase your reps of a lighter weight, then upgrade when you've mastered that size. If you don't know how to begin these exercises, consider hiring a trainer.
Exercise is only one component of weight loss. Diet and lifestyle changes are also necessary. For more information on weight loss with gastric sleeve, gastric bypass, or lap band surgery, call Dr. Shillingford's Boca Raton office today at (561) 483-8840. Dr. Shillingford accepts most health insurance carriers, and his office staff will help you navigate this process as smoothly as possible. For patients without bariatric coverage in their healthcare benefits, Dr. Shillingford also offers a reasonable self pay package price. Patients often travel from Jacksonville, Orlando, Tampa, and Vero Beach to Dr. Shillingford's South Florida office to receive the quality of care and compassionate bedside manner that Dr. Shillingford, MD, PA is known for.