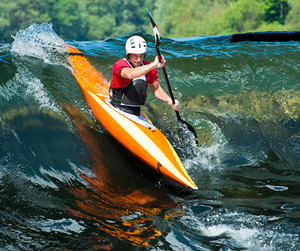 Summer can be a great time to try new outdoor weight loss activities in Florida. With so many miles of coastline plus all the other bodies of water, there is no shortage of ways to cool off while exercising outdoors. For gastric sleeve, gastric bypass, and lap band patients learning to incorporate fun, healthy activities that serve as both recreation and exercise at the same time is a great way to embrace your new healthier lifestyle after weight loss surgery.
We got five great ideas for healthy and heart-pounding activities you can easily find in Florida:
Kayaking- Kayaking is a great exercise for your arms, core, and back muscles. Plus, you get to be surrounded by nature and can easily cool off in the water. Paddling your kayak can burn over 200 calories per hour, or more depending on your weight. It is a fun activity to do with your friends, significant other, or even your children to get the whole family burning calories and building muscles together.
Biking- Biking in the intense summer sun may not be an ideal summer activity, but you can do it early in the morning or before sunset to beat the heat and the sun. You can pack a high protein breakfast or picnic dinner and make your exercise into a fun summer activity that feels a lot less like exercise and more like a fun activity. Bike with a friend or family member to make it even more fun and engaging. Moderate pace biking can burn over 300 calories an hour.
Stand Up Paddleboarding- If you've never paddle boarded, you can try a group or individual lessons from a qualified instructor to learn the basics. You'll find that you really build up your arm muscles, core, and leg muscles during your SUP sessions while taking in the beautiful scenery that can make the time feel like it breezed by. You may fall into the water, but that's part of the fun, and a great way to cool off while you burn up to 400 calories an hour.
Snorkeling- Florida's coastal waters can be a great place to see colorful fish, stingrays, barracudas, and more. Snorkeling can be a great exercise for your arms and legs, but can also be easy on your joints making it a good choice for people who need low-impact exercises. Using fins can add to the resistance of the water, burning more calories, and helping to build muscle tone. If you are not a strong swimmer, consider using a flotation device and do not snorkel alone. Snorkeling can burn upwards of 200-300 calories an hour depending on your activity level, plus it's a great cardiovascular activity.
Body Boarding- Kids in Florida love to go bodyboarding in the waves of Florida's coastline. But body boarding does not have to just be for kids. It can be a great activity to do as a family. Plus it can be a lot of fun. Paddling out will be a great workout for your upper body, and riding the waves will work your back and core, plus you can burn up to 400 calories while having fun.
Certainly, these aren't the only fun summer activities you can do in Florida (or any other state). But, Dr. Shillingford encourages his gastric sleeve, gastric bypass, and lap band patients to incorporate exercise into the post-bariatric surgery lifestyle (after they have been cleared to exercise). Many of these activities will seem a lot less like exercise than a typical session at the gym but that doesn't mean they aren't great ways to burn calories and build muscle. They are also a great way to involve your whole family and get everyone moving together. For more information about gastric sleeve, gastric bypass, and lap band surgery with Dr. Shillingford, MD, PA, call his Boca Raton office today at (561) 483-8840 and start your journey toward a healthier you today.