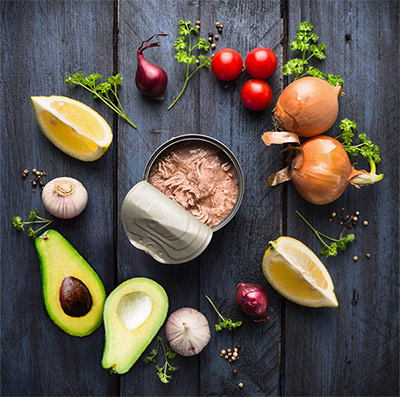 Whether you are at home, at work, or on the go this high protein gastric sleeve friendly lunch will be both delicious and good for you. Packed with tuna, avocado, lemon juice, and spices, you can whip this Tuna Avocado Smash Up together in under 5 minutes.
Traditionally tuna salad is mixed with mayonnaise, but gastric sleeve, gastric bypass, and lap band patients often substitute plain greek yogurt for all or part of the mayonnaise. While this can be a good choice to provide extra protein, you can add variety to your post-op bariatric diet by changing the ingredients.
This recipe uses avocado instead of mayonnaise or greek yogurt, which adds flavor and nutrients. Avocado has some protein (2 grams in ½ avocado), plus it provides healthy fats and fiber which can help you feel fuller for longer. It's also jam-packed with nutrients, including vitamins C, E, K, B6, riboflavin, niacin, folate, pantothenic acid, magnesium, potassium, lutein, and beta carotene. Avocado is high in fat and calories, but when used in moderation can make a great addition to a bariatric diet.
Tuna Avocado Smash Up
1 can tuna (packed in water, drained)
½ ripe avocado, cubed
¼ cup red onion, minced
2 tsp lemon juice
2 springs of fresh parsley, chopped (optional)
½ tsp sea salt or to taste
Fresh ground black pepper
Directions:
Put all ingredients in a bowl. Mix together, mashing up the avocado and breaking up the chunks of tuna. Adjust the spices to your liking. If your new stomach can handle celery, feel free to add it if you like your tuna with a crunch.
This mixture can be eaten a variety of ways:
This lunch idea is offered by Dr. Shillingford, MD, PA, a Boca Raton based board-certified surgeon specializing in advanced laparoscopic and weight loss surgery. Dr. Shillingford's gastric sleeve, gastric bypass, and lap band patients are often searching for new and different high protein, low carbohydrate meal ideas. Before trying this for lunch or snack, review Dr. Shillingford's post-op gastric sleeve diet guidelines to make sure that the recipe fits in with your appropriate stage.