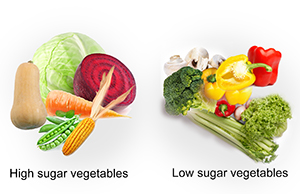 Vegetables should be a huge priority in gastric sleeve, gastric bypass, and lap band post op diet, just behind protein which should be the first priority. Starting at Stage 5, post op bariatric patients who are tolerating their diets should begin adding lettuce and soft cooked, low starch vegetables. When Stage 6 begins, you can add raw vegetables for more variety and texture in your diet.
For many weight loss surgery patients, low starch or low carbohydrate vegetables may be a new concept. We need to learn which vegetables are high in sugars or carbs, and which are lower before choosing our foods. Vegetables that are low in sugar and also provide fiber are the best choice as our bodies do not digest fiber (so we can subtract it from the total carbohydrates) and fiber can help keep us regular, which is something many bariatric patients need. By choosing vegetables that are low in simple sugars and high in fiber, we can help our bodies lose the excess weight, get the nutrients we need, and fill up on fiber.
We've compiled a list of higher sugar vegetables to avoid, and 5 lower sugar vegetables to try to incorporate more of into our post op weight loss surgery diet.
High Sugar Vegetables
Beets- Beets are packed with nutrition, but they are also sweet (that's why you'll see "beet sugar" listed on some ingredient lists). With nearly 14 grams of sugar in a cup, there are lots of lower sugar options.
Green Peas- With 21 grams of carbs (7 of which are fiber), peas are widely regarded as a high starch vegetable. Yes, they have protein, but when you need to choose a low starch vegetable for your post op diet peas aren't the best choice.
Corn- Corn is one of the highest sugar vegetables with 29 grams per cup (with 4 grams of fiber). Corn has a tendency to contribute to spikes in blood sugar for diabetics as well.
Carrots- Carrots are a very popular vegetable, but they are higher in sugar (about 12 grams of sugar with 3 of those being fiber) than many others, so if you are looking for a veggie to go with your hummus you have lots of lower sugar options.
Butternut Squash- Cooked butternut squash has nearly 22 grams of carbs, but nearly 7 grams of fiber, which makes it higher in sugar than many other vegetable options.
These vegetables are not inherently bad, in fact, they have many positives about them including vitamins, minerals, and antioxidants. But, for newly post op bariatric patients these vegetables should be put on the backburner, or used sparingly, at least until you've reached your one year surgical anniversary or reached your weight loss goal or as directed by your bariatric surgeon or bariatric dietitian.
Lower Sugar Vegetables
Red pepper- One cup of red pepper provides 9 grams of carbohydrates and 3 grams of fiber, for a net of 6 grams of carbs. They are packed full of antioxidants, anti inflammatories, and vitamins A and C. Plus, they are sweet, crunchy, and delicious.
Broccoli- Some love it, some hate it, but you've got to hand it to these little florets- they pack a lot of nutrition into them! With 6 grams of net carbs, they work well in diets for those with type 2 diabetes and are thought to protect against several types of cancers.
Mushrooms- There are so many varieties of mushrooms that are all worth checking out. Raw white mushrooms are one of lowest carb vegetables with 2 grams of carbohydrates including 1 gram of fiber. Mushrooms are known for the anti inflammatory properties, as well as their versatility (they can easily fit into breakfast, lunch, dinner, or even snacks).
Cauliflower- Cauliflower has become one of the most popular low carb vegetables thanks to its versatility. It can be eating raw, streamed, riced, mashed, or baked into a crust. It's high in vitamin C and K, and while it has 5 grams of carbohydrates 3 of those are fiber.
Asparagus- With 4 grams of net carbs, asparagus provides high levels of vitamins A, C, and K. It also has been associated with anti cancer benefits, all while making our meals look and feel a little bit fancier.
These five low sugar vegetables are by no means the only low vegetables available. Lots of vegetables are naturally low in carbohydrates and high in fiber. Incorporating a variety of lower sugar vegetables in our diets, especially post bariatric surgery weight loss diets, help us to maximize weight loss but also helps to ensure we get adequate nutrition.
For more information on bariatric diets, please visit Dr. Shillingford's website www.drshillingford.com. Dr. Shillingford, MD, PA, is a board certified surgeon specializing in advanced laparoscopic and bariatric surgery. His gastric sleeve, gastric bypass, and gastric band patients, receive specialized care at Northwest Medical Center's Center of Excellence in Bariatric Surgery, where Dr. Shillingford proudly serves as Medical Director. Follow care in Dr. Shillingford's Boca Raton office is conveniently located for patients in nearby Miami, Fort Lauderdale, Coral Springs, Parkland, West Palm Beach, and Delray Beach, but also for those in Orlando, Naples, and Tampa.