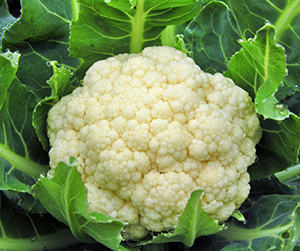 Many of Dr. Shillingford's gastric sleeve, gastric bypass, and lap band patients incorporate cauliflower rice into their post bariatric surgery diet. It tastes good, it's low in carbohydrates, low in calories, and it's packed with vitamins, minerals, and fiber. When you substitute cauliflower rice in place of white or brown rice, you are reducing your carbohydrate intake, reducing calories, and promoting weight loss. It's also a good way to control blood sugar if you have type 2 diabetes. Plus, it's a good way to add vegetables into your weight loss surgery diet. If you haven't read Dr. Shillingford's blog about how to prepare cauliflower rice, check it out now.
The problem with making cauliflower rice is that it makes a lot when you rice a whole head of cauliflower. If you are feeding a family, then it's probably not a problem at all. But, if you're cooking for just one or two people, you may wind up with way more cauliflower rice than you can eat. One hack you can try is freezing the leftovers. If you just put it in a storage container it will freeze into a solid block and have to be used all at one time. But, if you freeze it into inpidual servings, you can pop a single serving out of the freezer and feel like you are having a home cooked meal with minimal effort.
To freeze cauliflower rice in inpidual servings, a muffin tin can make a good portion control device. Prepare your cauliflower rice (or even mashed cauliflower). Use olive oil or cooking spray to grease the muffin cups. Transfer the riced cauliflower into the muffin cups. Pack it down a little. Freeze overnight or for several hours, until you can pop them out of the muffin cups. If it's difficult you can use a spoon to help, or use the silicone baking cups. Transfer the frozen rounds into a freezer bag so they don't take up a lot of freezer space.
Now, when you need something quick and easy to go with your protein for dinner, you can pluck one of your frozen rounds out, let it thaw and cook it with whatever spices work best with your meal. Cauliflower rice pairs nicely with chicken, fish, pork, turkey, and steak as your protein after gastric sleeve, gastric bypass, or gastric band surgery (be sure only to incorporate it into your diet at the correct stage according to Dr. Shillingford's post op diet).
Dr. Shillingford, MD, PA is a board certified bariatric surgeon specializing in advanced laparoscopic and bariatric surgery. His gastric sleeve, gastric bypass, and lap band patients receive top notch care at Northwest Medical Center's Center of Excellence in Bariatric Surgery, where Dr. Shillingford proudly serves as Medical Director. If you are considering gastric sleeve, gastric bypass, or lap band surgery, call Dr. Shillingford today at (561) 483-8840 to schedule a free informational session to see if weight loss surgery is right for you. To find out more, please visit https://www.drshillingford.com/informational-session.html.