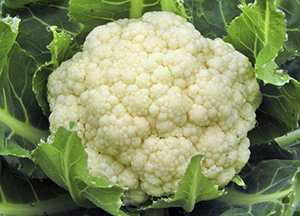 You may have heard that white foods should be avoided since they are not as good for us as their colorful counterparts. That is a good rule of thumb, but certainly not a hard and fast rule. Cauliflower is one of the reasons that rule doesn't always apply. Cauliflower may be white, but it is packed with healthy vitamins, minerals, and fiber, while being very low in calories. One cup of raw cauliflower contains only 27 calories, but is packed with vitamin C, vitamin K, B6, folate, niacin, riboflavin, phosphorus, calcium, iron, magnesium, and potassium, not to mention fiber and antioxidants.
For those who have had gastric sleeve, gastric bypass, or adjustable lap band weight loss surgery, you may be looking for ways to reduce your overall calories and carbohydrate intake, while still getting all the nutrients you need to stay healthy. Substituting cauliflower for starchy potatoes or rice can be a good way to lower your carbohydrates and calories without cutting out nutrients you need after your bariatric weight loss surgery.
These 3 clever ways to cook cauliflower will help you add more cauliflower to your diet while also adding variety to your meals.
Mashed Cauliflower
Instead of starchy mashed potatoes, try mashed cauliflower. Cut a head of cauliflower up into florets. Boil in a salted water for about 8-10 minutes, or until soft. Reserve ¼ cup of cooking liquid. Add 1 tbsp of olive oil and mash the florets with a potato masher or use an immersion blender. Add cooking liquid 1 tbsp at a time, until desired consistency is achieved. Season with salt and pepper to taste. You can add extra flavor by substituting vegetable or chicken broth for cooking liquid, adding in minced or powdered garlic, or by sprinkling with parmesan cheese. Mashed cauliflower is lower in carbohydrates and calories than traditional mashed potatoes, and tastes good too.
Cauliflower Rice
Maybe calling it rice is a little misleading, but by pulsing raw cauliflower in a food processor it makes a small grain-sized granule that can be used like rice or couscous. Cut a head of cauliflower into small florets and place in a food processor (making sure not to fill it too full). Pulse the food processor in 1 second intervals until the cauliflower resembles rice or couscous. Take out any larger pieces that didn't get processed. The cauliflower can be used at this point for a cold salad, but cooking it brings out more flavor, and makes it more rice-like. Warm a tablespoon of oil or butter in a pan on medium heat. Add cauliflower, sprinkle with a little salt, cover and let cook for 5-8 minutes. Pair it with your favorite protein for dinner.
Cauliflower Salad
If you like potato salad, this can be a great lower carbohydrate alternative. It can help you stay on track during a summer barbeque. Start by cutting the cauliflower into florets. Place in a microwave safe dish, add water to the bottom of the dish, cover and microwave for 6-8 minutes or until tender, but not too soft. Drain. In a separate dish, combine ⅓ cup of mayonnaise (or plain greek yogurt or sour cream), 1 tbsp mustard, 1 tbsp pickle relish, 2 teaspoons diced onion, ¼ cup diced celery, 1 teaspoon vinegar, and salt and pepper to taste. Roughly dice 2 peeled hard boiled eggs, and add to cauliflower. Add mayonnaise mixture to cauliflower and eggs and gently mix until coated. Chill to let the flavors marry, then serve.
These ideas are offered by Dr. Shillingford, M.D., P.A., a board certified general surgeon specializing in bariatric weight loss surgeries, including adjustable lap band, gastric sleeve, and gastric bypass. Dr. Shillingford and his staff enjoy providing our patients with information on foods that can be incorporated into a healthy post surgical diet. Dr. Shillingford's gastric sleeve, gastric band, and gastric bypass patients come from all over South Florida, including Boca Raton, Fort Lauderdale, Miami, Delray Beach, Hialeah, Hollywood, and the Palm Beaches.