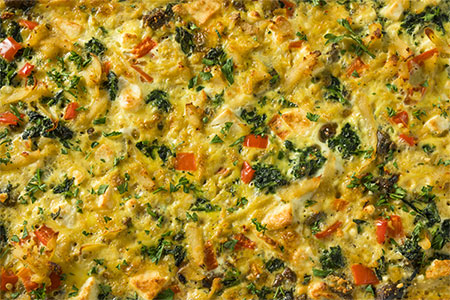 We love making meals that can work for any meal- breakfast, lunch, dinner, or even a snack! And this casserole is just that. It's got protein, it's got veggies, it's got flavor. It's good hot. It's good cold. Can you tell how much we like it?
The eggs, sausage, cheese, milk, and greek yogurt provide protein to help you meet the goal of 80 grams of protein per day that Dr. Shillingford encourages his weight loss surgery patients to meet. It's got vegetables to help you get fiber to keep you regular. The dairy products (and veggies to a lesser extent) will provide some carbs as carbohydrates are naturally found in these foods. But this casserole can easily fit into a post-op bariatric diet (as long as you have successfully advanced to at least Stage 5 in Dr. Shillingford's Post-Op Diet).
Veggie, Sausage, and Egg Casserole
6 eggs
½ pound ground sausage
1 cup broccoli florets
1 cup cauliflower florets
½ cup cheddar cheese, shredded
1 clove garlic, minced (more if desired)
4 tbsp milk
2 tbsp nonfat plain greek yogurt
½ tsp onion powder
1 tsp Italian Seasoning
Salt and pepper (to taste)
In a mixing bowl, combine eggs, ¼ cup shredded cheese, milk, yogurt, and seasonings and whisk until combined. Set aside.
Warm a nonstick pan over medium high heat, add sausage. Cook for about 2-3 minutes, using a wooden spoon to break the sausage apart into small pieces. Add broccoli and cauliflower florets. Cook until sausage is cooked through and veggies are beginning to get tender. Drain off any fat.
Coat a rectangular baking dish with nonstick spray. Add sausage and veggie mixture and spread into an even layer along the bottom of the baking dish.
Pour egg mixture on top of sausage and veggies. Top with remaining shredded cheese.
Bake uncovered in a 350 degree preheated oven for 35-45 minutes until eggs are cooked through and the top gets golden brown.
When cool enough, cut into small rectangles and enjoy.
We do realize that not everyone tolerates eggs after their gastric sleeve, gastric bypass, and lap band surgery. Some foods just don't sit well with us anymore after bariatric surgery, and eggs are one of those commonly mentioned by Dr. Shillingford's weight loss surgery patients.
If you are one of those patients, you can hold onto this recipe until your new stomach can handle eggs or pass it along to friend or family member who is trying to cut down on carbs or lose weight.
Dr. Shillingford offers many different recipes for his gastric sleeve, gastric bypass, and lap band patients under the blog section of his website, his Facebook page, and also his Pinterest boards. Dr. Shillingford, MD, PA is a Boca Raton based bariatric surgeon who also specializes in advanced laparoscopic and robotic surgery and serves as Medical Director at Northwest Medical Center's Center of Excellence in Bariatric Surgery. If you're ready to lose weight and improve your health, call for your bariatric consultation today (561) 483-8840.