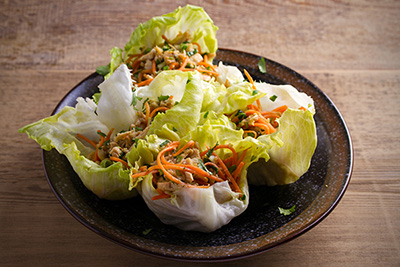 Who doesn't love tacos? Even gastric sleeve, gastric bypass, and lap band patients can enjoy Taco Tuesdays or tacos on any day of the week! While the tacos might look a little different, high protein, low carb tacos can be served and eaten in a variety of creative and delicious ways.
A lot of the carbohydrates in traditional tacos come from the corn shells or flour tortillas. One way to eliminate carbohydrates is to eliminate the shells and make a taco bowl. A taco bowl can be created on a bed of lettuce (or other leafy green) or by adding the protein and fixings in the bowl and eating it with a fork.
2 lbs boneless skinless chicken breasts
1-2 medium yellow onions, thinly sliced
1-2 medium bell peppers (colors of your choice), thinly sliced
16 oz jar of salsa (without added sugars)
½ tsp salt
Juice of 1 lime
Add chicken, onions, peppers, salt, and ⅔ jar of salsa to a slow cooker or pressure cooker that has a slow cooker setting. Cover and cook on high for 4 hours or low for 6 hours, or until the chicken is cooked through to 165 degrees and the vegetables are tender.
Take the cooked chicken out, place on a cutting board, and shred with two forks. Return the shredded chicken to the pot, add the remaining salsa, and lime juice, and stir until combined.
The fixings you choose to add can transform these taco bowls from good to fantastic. Bariatric friendly options include:
Shredded cheese
Diced avocado
Black beans
A dollop of sour cream or plain greek yogurt
Fresh cilantro
This recipe uses chicken breasts and cooked low carbohydrate vegetables, which are not recommended until Stage 5 of Dr. Shillingford's Post Op Bariatric Diet. If you have not yet advanced to Stage 5, it's best to tuck this recipe away until you're ready. Eating foods before your new stomach is ready can lead to problems, including choking and nausea. If chicken breasts continue to give you trouble even after you've advanced to Stage 5, you could try using boneless skinless chicken thighs instead.
For more recipes and nutrition tips from Dr. Shillingford, MD, check out his blog, his Facebook page, and Pinterest boards. Dr. Shillingford, MD, PA is a Boca Raton based, board-certified surgeon specializing in advanced laparoscopic surgery and weight loss surgery. His gastric sleeve, gastric bypass, and lap band surgery patients are frequently looking for high protein, low carbohydrate recipes that taste great and fit into their bariatric lifestyle. These chicken taco bowls are not only high protein, but are a family favorite!