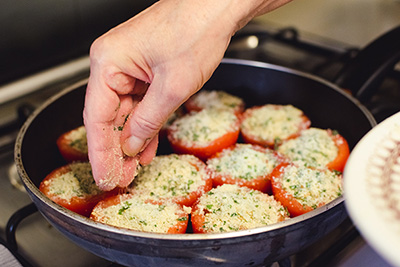 The internet is filled with so many tempting recipes that can easily derail your weight loss diet. But, every now and then there will be a recipe that looks delicious AND fits nicely into your gastric sleeve, gastric bypass, or lap band diet. Today is that day.
Tomatoes and parmesan cheese turn into near magic when combined. And because they are basically the only two ingredients in this recipe (aside from spices and cooking spray), you can count on the recipe being easy and low in calories (when you control your portion size, of course).
Delish's Baked Parmesan Tomatoes
2-3 large beefsteak tomatoes
1 cup shaved Parmesan cheese (not the grated kind)
Cooking spray
1 tbsp dried basil
1 tbsp dried oregano
2 tbsp fresh Italian parsley, roughly chopped
Preheat oven to 400 degrees. Spray a baking sheet with cooking spray.
Slice the tomatoes in ¼" slices and arrange on the baking sheet.
Top each tomato slice with enough parmesan to cover it. Sprinkle with basil and oregano.
Bake for 10 minutes, or until the cheese is melted and bubbly.
Top with fresh Italian parsley.
Both the tomato and the cheese do have carbohydrates, so bariatric patients will have to account for that in their 50 gram daily limit. Keeping your total daily calories and carbohydrates at or under your goal is important to maximize your weight loss after gastric sleeve, gastric bypass, and lap band surgery. Also crucial is meeting your protein goal and your goal of 64 ounces of noncaloric fluids. The cup of parmesan cheese contains roughly 14 grams of carbohydrates (along with its 28 grams of protein) and each tomato has about 7 grams of carbohydrates. Although these can make an easy high protein breakfast, lunch, or snack, bariatric patients will have to be mindful of their portion size. Just because something fits nicely into your bariatric weight loss diet doesn't mean you can overeat. Your portion size will depend on how far out you are from your surgery, but always listen to your stomach and stop eating when you are full. Dr. Shillingford's patients are also reminded to consult Dr. Shillingford's post-op diet chart to make sure the recipe fits into the current stage of their post-op bariatric surgery diet.
For more bariatric friendly recipes, check out Dr. Shillingford's blog section. of his website, his Facebook page, and Pinterest boards. Dr. Shillingford, MD, PA is a board-certified surgeon specializing in advanced laparoscopic and weight loss surgery. His gastric sleeve, gastric bypass, and lap band patients are often looking for bariatric friendly recipes that are both quick and easy and these Baked Parmesan Tomatoes fit the bill! To learn more about if gastric sleeve, gastric bypass, and lap band surgery are right for you, please join Dr. Shillingford for a free informational session. Call his Boca Raton office at (561) 483-8840 or visit his website to schedule.