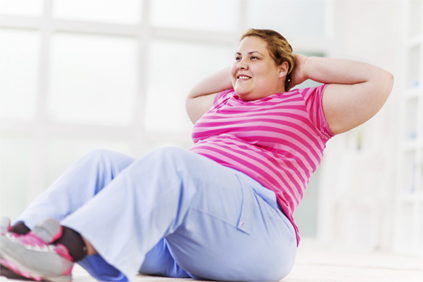 We've all done it- you plan to work out, but when the time comes you have an excuse or reason to skip it. Or you just plain forgot. This is an instance where it's not "the thought that counts." You actually have to do the workout, not just think about it for you to reap the rewards.
For weight loss surgery patients, regular workouts may not be a habit you are used to. This can mean that normal day to day activities like laundry, chores, or work can easily take priority over this new exercise habit you are still getting used to. But for gastric sleeve, gastric bypass, and lap band patients, regular exercise is essential to maximizing your weight loss, strengthening your muscles, and improving your health. That is, of course, *after* you've been cleared to exercise by Dr. Shillingford or your bariatric surgeon.
To help our gastric sleeve, gastric bypass, and gastric band patients incorporate regular exercise into their day to day lives, we compiled a list of five clever ways to make sure you never miss another workout.
Find a workout you love

For some it's their Peloton, for others it's running, walking, pilates, kickboxing, elliptical, tennis, or dancing. Find the workout that you enjoy doing. It may take some time to find the right one, but actually liking your workout is one huge step toward wanting to do it and then actually doing it.

Don't go it alone

Planning to workout with a partner or (safely) with a group at a certain time can improve your chances of showing up. No one wants to let a friend down or be the one left out of an event, so you'll be likely to go even if you're not in the mood. This could mean walking with neighbors, scheduling a doubles tennis match, or even scheduling a phone or video chat with a family member (or surgical buddy) while you walk.

Find someone who inspires you

Finding an instructor who makes you feel welcome, knows how to make the experience fun and exciting, and can find ways to push you just beyond your comfort zone can be a huge draw. Not all instructors inspire all people. You have to find the one that you feel best about. This applies to in person instructors like at a gym, dance lessons, or a pilates instructor. Or with your Peloton or Mirror subscriptions. It could be a blogger or vlogger or a person in your neighborhood who you can see getting out there and running despite the weather, or another bariatric weight loss patient you met at one of Dr. Shillingford's monthly Nutrition Support Meetings or through NWMC Bariatric Facebook group. Find someone who makes you say, "I can do this!"

Find the best time to workout and stick with it

Morning workouts are right for some people. Others find nighttime workouts better. Find the time that fits your schedule best. For some, it may be right after work so they can burn through the frustrations of the work day. For others it may be right before bed so they can take a shower and then get into cozy pajamas. Maybe for you it's while you're doing laundry or while dinner is baking or when the baby is napping. You are more likely to workout if you can seamlessly fit it into your schedule. Find that time and set an alarm or schedule it into your calendar.

Prepare early

Gather your supplies, pack your bag, fill up your water bottle and keep it ready to go in the fridge. If you plan to workout in the morning, you could prepare the night before. If you like to workout at night, you don't have to prepare the night before, just make sure you prepare earlier in the day. Some people even swear by sleeping in their workout gear to help them fit in early morning exercises. Eliminate any obstacles between you and your workout.

Have a back up plan

If your workout gets derailed by weather, car trouble, a friend cancelling, or any other reason, have a back up work out plan you can always rely on. Maybe this is a video you can follow along to at home, or taking your dog for a jog, or using a treadmill instead of walking outside to beat the heat. Have another activity you can always do regardless of whatever monkey wrench life can throw at you.
If you are trying to lose weight and haven't been successful despite diet and exercise, bariatric surgery may be an option. Dr. Shillingford, MD, PA has performed over 4,000 bariatric procedures, including gastric sleeve, gastric bypass, and lap band surgery. His weight loss surgery patients come from all over Florida, including Boca Raton, Miami, Fort Lauderdale, Naples, Orlando, and Jacksonville, to have their weight loss surgery performed by Dr. Shillingford at a hospital designated as a Bariatric Center of Excellence. To find out if you are a candidate for gastric sleeve, gastric bypass, or gastric band surgery, call Dr. Shillingford at (561) 483-8840 today.