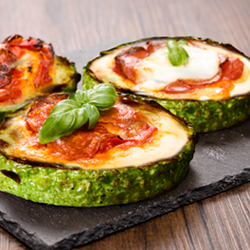 Zucchini season is quickly approaching in South Florida. September begins the harvesting of this low carbohydrate vegetable. If you love pizza, these quick and easy zucchini pizza bites will satisfy your pizza craving, while keeping it lighter and healthier using zucchini rounds as your pizza base. Perfect for those watching their carbohydrate intake and needing portion control, such as gastric sleeve, gastric bypass, and adjustable gastric band patients. And with only 5 ingredients, you're likely have everything you need to cook them tonight.
Ingredients
4 zucchini rounds, ¼ inch thick
2 tablespoons marinara sauce
¼ cup shredded mozzarella cheese
olive oil cooking spray
dash of Italian seasoning as garnish
For extra protein, use 1 slice of Canadian bacon, diced or ripped into small pieces
Cut zucchini rounds ¼ inch thick, cutting on the bias if your zucchini is small. Spray both sides of the zucchini rounds with olive oil cooking spray. Broil zucchini for 2 minutes per side. Add marinara sauce, sprinkle with cheese. Garnish with Italian seasoning. If adding Canadian bacon, sprinkle on top of cheese. Broil for 1-2 minutes or until cheese is melted, keeping careful watch not to burn the top.
The above recipe is offered by Dr. Shillingford, M.D., P.A., a board certified general surgeon specializing in laparoscopic and obesity surgery. Dr. Shillingford's practice is located in Boca Raton, Florida. His sleeve gastrectomy, gastric bypass, and adjustable lap band patients often come from all over Florida including Fort Lauderdale, Miami, Miami Beach, Boca Raton, Wellington, Tampa, West Palm Beach, and Orlando. In addition to offering bariatric surgery and follow up appointments, Dr. Shillingford encourages his patients to make positive changes in their lives and their diets to help them achieve their goals.