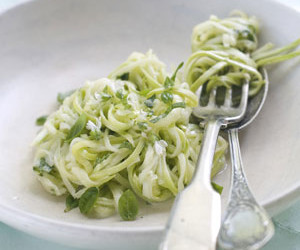 Sometimes it seems you can't flip through a magazine without seeing zucchini noodles. Often called "zoodles," these green ribbons of zucchini look like pasta, but are pure vegetable instead of traditional carb laden pasta noodles. While they may look like a delicacy, they are actually quicker to make than pasta and pair nicely with traditional pasta sauces.
Zucchini is a member of the summer squash family that is very low in calories. In fact it has only 21 calories per cup, compared to about 180 calories per cup of cooked pasta, it is an easy way to reduce the calories and simple carbohydrates in your diet without forgoing your favorite meals. In addition to reducing your intake of calories, you also get the added benefits of fiber, vitamin C, lutein, zeaxanthin, manganese, and copper that zucchini has to offer. Leaving the skin on the squash not only adds extra color to the meal, but helps you get the most nutrition out of the vegetable.
Inspired to try zoodles? Dr. Shillingford's staff in his Boca Raton, Florida office are happy to provide you with step by step instructions for how to prepare zoodles and ideas for sauces to turn this vegetable into a main meal. By reducing the overall calories in your diet, whether before or after your weight loss surgery, the more likely you are to achieve your weight loss goals. Dr. Shillingford specializes in laparoscopic gastric band, gastric bypass, and sleeve gastrectomy weight loss surgeries. Dr. Shillingford and his staff strive to help his lap band, gastric sleeve, and gastric bypass patients achieve their weight loss successes and open their minds to new ways of eating to achieve optimal health.
To Prepare Zoodles:
Wash and dry the zucchini. Cut off the stem. Use a julienne vegetable peeler to make thin ribbons of zucchini.
You can use the zucchini raw in recipes, or you can sauté the ribbons in a pan with olive oil for 3-5 minutes. Top with your favorite sauce.
Sauces to try:
Traditional style marinara and meatballs
Bolognese
Scampi with Shrimp
Asian Peanut Sauce
Curry Sauce with Chicken