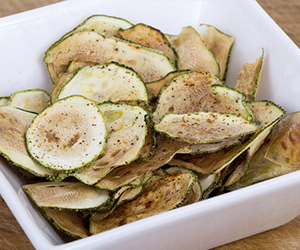 Everyone loves a chip. But potato chips are not worth the saturated fat and empty calories for those on a weight loss diet or for those who have had gastric sleeve, gastric bypass, or adjustable lap band surgery. A great alternative is to make your own chips out of zucchini. It's a lower calorie, lower carbohydrate vegetable than potatoes, and the homemade chips have less than 50 calories per serving. Do not expect these chips to taste like potato chips, but they do taste good. They do lose their crispness quickly, so don't plan on making a batch to keep for a while. But, they make a great addition to any BBQ where they will likely get eaten quickly.
Ingredients
Adapted from www.skinnymom.com
1 medium zucchini (about 1 pound, makes 80 chips)
1 tbsp extra virgin olive oil
¼ tsp salt
¼ tsp onion powder
⅛ tsp garlic powder
Instructions:
Preheat to oven to 225 degrees. Line 2 baking sheets with parchment paper.
Using a mandoline slicer, slice the zucchini chips very thinly. If the slicer has 3 settings, use the middle. You should be able to get 80 slices from the zucchini.
Lay the slices out in a single layer on paper towels and place another paper towel on top. Place a baking sheet on top for 10 minutes to help remove some of the moisture to achieve a crispier chip.
Lightly brush the parchment paper with oil, then line the zucchini slices in a single layer on the baking sheets and lightly brush the tops with oil.
Season evenly with salt, garlic powder, and onion powder.
Bake for 1-1½ hours, until the chips are crispy, rotating halfway through.
Allow to rest for 5 minutes before eating.
These chips can be eaten with hummus, salsa, bean dip, eggplant dip, plain, or with your choice of dips. As with any snack, eat them in moderation. While the chips themselves do not have a lot of calories, the dip or side you eat them with might, which could bring your caloric intake over your goal and halt your post bariatric surgery weight loss.
The above is offered by Dr. Shillingford, M.D., P.A., a board certified surgeon specializing in advanced laparoscopic and obesity surgery. Dr. Shillingford's gastric sleeve, gastric bypass, and adjustable lap band patients come from all over Florida to his Boca Raton office, including from Delray Beach, Wellington, West Palm Beach, Miami, Hialeah, and Parkland. Dr. Shillingford's bariatric patients are often seeking recipes for low calorie, low carbohydrate based snacks that taste good.