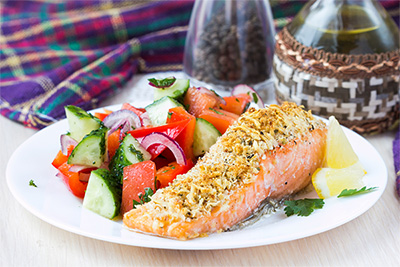 Sometimes a recipe is so simple that you think it can't be good. But don't be fooled. Just four ingredients can be combined to create a delicious, healthy, and protein-packed dinner centerpiece.
For gastric sleeve, gastric bypass, and lap band patients who are in the stage of their post-op diet where they can eat regular textured protein meals (see Dr. Shillingford's post-op diet or follow your bariatric surgeon's advice), this salmon recipe can be a real winner. For one, salmon is packed with high quality protein (17 grams in a 3 ounce portion). Second, salmon is also full of heart healthy fats. While that's good on it's own, the high fat content also makes the salmon moist. Moist foods are usually better tolerated by weight loss surgery patients than dry foods. Third, the recipe is quite delicious. But don't take our word for it- give it a try yourself!
Baked Salmon with a Parmesan Crust
Adapted from Add a Pinch
1 salmon fillet, about 2 pounds
2-3 cloves minced garlic
¼ cup chopped parsley (dried is ok too)
½ cup shaved parmesan cheese (not the shaky cheese version)
Directions:
Preheat the oven to 425 degrees. For easy clean up, line a rimmed baking pan with foil or parchment paper. If not lining the pan, consider spraying with a low calorie cooking spray.
Place salmon (skin side down) on the lined pan. Cover with another sheet of parchment paper or foil.
Bake for 10 minutes.
While salmon is baking, mix remaining ingredients together.
Remove salmon from the oven and take off the covering. Using a spoon, add the remaining ingredients on top of the salmon.
Return the salmon to the oven uncovered and bake for an additional 5 minutes until salmon reaches 145 degrees and the parmesan melts and browns.
Remove from the oven and let stand for 5 minutes before serving.
This salmon recipe can be a great one to try because it is delicious and appealing to bariatric patients as well as those not trying to lose weight. It can be a good choice to serve when family or company comes over. Pair it with a side of steamed broccoli or roasted asparagus for a vitamin and mineral packed meal. If you have any leftovers, try it flaked over a spinach or kale salad for a quick and easy on the go lunch. The recipe concept can also easily be scaled down and adapted to make with a single serving of salmon or even using a thawed vacuum sealed frozen salmon fillet.
This recipe suggestion is offered by Dr. Shillingford, MD, PA, a board certified surgeon specializing in advanced laparoscopic and obesity surgery. Dr. Shillingford performs gastric band, gastric bypass, and gastric sleeve surgeries for obese and overweight patients as well as those with comorbidities, such as diabetes, hypertension, high cholesterol, sleep apnea, and other medical conditions that can be improved or reversed with weight loss and a controlled diet. His weight loss surgery patients often come from nearby Fort Lauderdale, Miami, Coral Springs, and Wellington, as well as farther locales like Tampa, Orlando, and Jacksonville. Many patients are happy to travel the distance to have their surgery with Dr. Shillingford, who is highly regarded as a leader in bariatric surgery in South Florida, but is also known for his compassionate care and bedside manner.