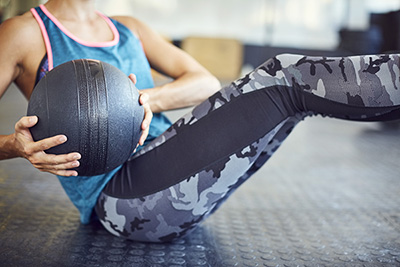 Medicine balls have been around for centuries, yet they are still popular with fitness enthusiasts. Ancient Greeks used to make them out of sand and animal pouches, but these days they're often made out of leather, vinyl, or rubber. You may find them stacked on a rack in different areas of your gym.
These weighted spheres are a versatile and portable exercise tool that can help enhance your strength training workouts. They come in different styles and weights, so it's easy to choose one that fits your needs. They are meant to be held, thrown, tossed, and bounced around, so be sure to opt for a style that fits your workout. It's also wise to begin with a lower weight ball at first to avoid injuries. They come in a variety of weights, often ranging from 4 lb up to 25 lb with several options in between. Some even have handles to help with grip.
Strength training is important, even for people trying to lose weight. By adding the weight of a medicine ball to regular exercises, you can strengthen your muscles faster. This can ultimately lead to a higher resting metabolic rate, meaning you will burn more calories while at rest. Stronger muscles can also lead to improved tone, balance, and a body composition shift. All of these are important for people following weight loss surgery, including gastric sleeve, gastric bypass, and lap band surgery. While adding muscle may not help move the scale, you will likely still see improvements in your measurements and how your clothes fit.
If you are looking for a way to add resistance or difficulty to a work out that you enjoy doing, consider incorporating a medicine ball. They can be added to lunges, squats, push ups, curls, supermans, deadlifts, burpees, and so much more. One very important caveat: Make sure you've been cleared to exercise by Dr. Shillingford (or your bariatric surgeon) before beginning any exercise after your gastric sleeve, gastric bypass, or lap band surgery.
The above is offered by Dr. Shillingford, MD, PA, a board certified surgeon specializing in advanced laparoscopic and robotic surgeries, including gastric sleeve, gastric bypass, and lap band surgery. Dr. Shillingford's reputation for excellent surgical skills, patience, and comfortable bedside manner attract patients from all over Florida, including Miami, Fort Lauderdale, Boca Raton, Orlando, and Jacksonville. His bariatric weight loss patients receive top notch care during their hospital stay at Northwest Medical Center's Center for Excellence in Bariatric Surgery, where he serves as Medical Director, and during their follow up care in his Boca Raton office or via telemedicine.