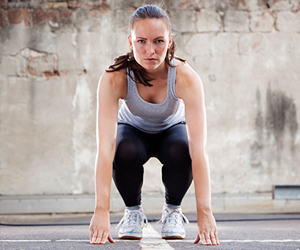 If you are new to working out, it may seem like there's a whole new language to learn. Carb, squat, interval training, plyometrics, deadlift, and burpee are just a few terms that might make a newcomer's head spin. Exercising is crucial to better health and weight loss, and we want our gastric sleeve, gastric bypass, and gastric band patients to feel comfortable exercising and being around people who do exercise. Knowing some terms can help you feel more "in the know" and less likely to feel uncomfortable working out, whether it's in the gym, outside, or in your living room.
What is a Burpee?
A burpee, or a squat thrust, is a whole body exercise used in strength training. It became popular thanks to the United States Armed Services, who used it as a way of assessing fitness levels of recruits entering WWII. As the move consists of a series of exercises performed in quick succession, it was used as a measure of coordination, agility, and strength.
How Do You Do a Burpee?
Begin in a standing position. Feet shoulder width apart. Hands at your sides.
Drop to a squat position with your hands flat on the ground inside your feet.
Jump your feet out behind you (landing on the balls of your feet) so that you are in a plank position.
Jump your feet back to the squat position landing them just outside of your hands.
Reach your arms over your head and jump explosively into the air.
Return to your standing position.
Do it all over again!
Tip: watch a video online to make sure you understand what it should look like.
What Are the Benefits of a Burpee?
Since burpees use your full body weight, they are a high load exercise. Add in the high repetition and it is an effective way to increase your muscular endurance. Burpees also work both your upper body and lower body at the same time, so it's a total body exercise. Burpees are calorie burners with an average of 10 calories burned per minute (of course, this varies with each person).
If you've been given a clean bill of health to start exercising after gastric sleeve, gastric bypass, or gastric band surgery, try incorporating burpees into your exercise routine. It may take you time to work on your form and get them right, but once you do, burpees can be a great full body exercise you can do in the privacy of your home or at the gym.
The above is offered by Dr. Shillingford, M.D., P.A., a Center of Excellence Surgeon specializing in gastric sleeve, gastric bypass, and lap band surgery. Dr. Shillingford's reputation for excellent surgical skills and comfortable bedside manner attract patients from all over Florida, including Miami, Fort Lauderdale, Naples, Tampa, Sarasota, Port St. Lucie, Orlando, and Jacksonville. His bariatric weight loss patients receive top notch care during their hospital stay at Northwest Medical Center's Center for Excellence in Bariatric Surgery, where he serves as Medical Director, and during their follow up care in his Boca Raton office. But, it's up to the patients themselves to incorporate exercise into their daily lives to make the most of their weight loss efforts.