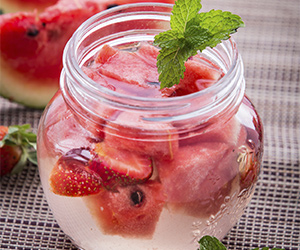 Water is one of the things bariatric patients often overlook. Many gastric sleeve, gastric bypass, and lap band patients are often so concerned with the foods they are eating that they forget that drinking enough water is just as important. In fact, dehydration is the number one reason patients are readmitted to the hospital after weight loss surgery.
Gastric sleeve, gastric bypass, and lap band patients should aim to drink at least 64 ounces of water a day. More may be needed for adequate hydration depending on weight and activity levels. For those with a reduced stomach size after obesity surgery, drinking that much water every day may be a challenge. In order to drink 64 ounces of water a day, it is important to spread out your fluid intake over the course of the day to ensure you can fit it all in. Also, be mindful not to drink your water with your meal. Wait at least 30 minutes after eating to start drinking your water again. Remember to sip your water, not gulp. Some bariatric patients prefer to use a straw.
While you may be used you drinking carbonated beverages or caffeinated drinks, those adhering to their post bariatric surgery diet should stay away from carbonation. It can stretch your newly resized stomach. Caffeine may be a pick me up, but caffeine is a natural diuretic and too much of it may be dehydrating.
One way to ensure you are getting enough water is by making it taste so good you want to drink it. All day. Infusing water with fruit essences can make it taste divine and only adds a minimal amount of calories to your water. While you can buy pitchers to infuse fruits, it isn't necessary. Any pitcher will work. All you need is a pitcher, water, and fruit. Even some herbs can add flavor. At Dr. Shillingford's office, we like Watermelon Mint Infused water. It's low in calories, and refreshing in the hot Florida weather.
Watermelon Mint Infused Water
4 cups watermelon, cut into ½ inch cubes
6 sprigs mint
2 quarts water (64 ounces)
Add watermelon cubes to a pitcher of water. Lightly crush the mint sprigs and add it the water. Refrigerate for 2 to 4 hours. Strain the watermelon and mint, and discard the solids. The fruit and mint infused water will keep in the fridge for 2 days if you don't drink al 64 ounces the first day.
Dr. Shillingford, M.D., P.A., is a board certified surgeon specializing in advanced laparoscopic and obesity surgery. His bariatric patients come from all over South Florida, including Boca Raton, Delray Beach, Wellington, Miami, and Parkland. Dr. Shillingford frequently reminds his gastric sleeve, gastric bypass, and adjustable lap band patients to drink enough water. This may be made easier by drinking fruit infused water, like Watermelon Mint water.