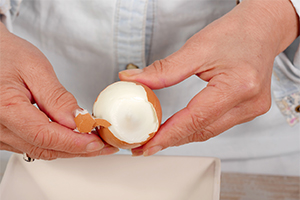 Eggs are a great source of protein for gastric sleeve, gastric bypass, and lap band patients. They are full of vitamins and minerals, low in carbohydrates, and packed with protein. Once you've entered the phase of your post bariatric surgery diet where eggs are allowed, they can be the foundation for a quick and easy meal, whether it's breakfast, lunch, dinner, or even a protein based snack.
But do you find yourself cursing under your breath when you have to peel them? Do you always forget the steps to take when boiling them without making the yolks green and sulphur scented? We've got a quick and easy way to cook eggs perfectly every time and produce eggs that peel easily. The trick? It's not adding any special ingredients. It's an Instant Pot.
If you don't have an Instant Pot for cooking post bariatric surgery meals, it's definitely one kitchen tool to consider adding to your weight loss arsenal. It cooks a lot of types of foods, and does it a lot quicker than the oven or a crock pot. One other benefit for weight loss surgery patients is that, unlike cooking on a stove top or in the oven, you really don't have to add a lot of fat to the recipes. This helps keep the calorie content low, which aids in weight loss.
So, it's quick, it's easy, it helps keep foods moist and lower in calories that frying, the Instant Pot is definitely worth getting. Even just for the eggs.
Hard Boiled Eggs in an Instant Pot
1 cup water
A dozen eggs
Directions:
Place the rack at the bottom of the pressure cooker. Add water. Add the eggs. Cook on manual for 5 minutes (high pressure). When it beeps, let it naturally release for 5 minutes, then you can vent it.
If your eggs are extra large, you may want to add an extra minute. But otherwise, it's that simple to get a perfectly cooked, high protein hard boiled egg. For gastric sleeve, gastric bypass, and lap band patients, hard boiled eggs are a great addition to a green salad or mash up nicely with avocado to make egg salad.
This tip is offered by Dr. Shillingford, MD, PA, a board certified surgeon specializing in advanced laparoscopic and obesity surgery. His gastric sleeve, gastric bypass, and gastric band are often seeking advice on getting enough protein in their post bariatric surgery diets and eggs can make a great choice. They are economical, fast, easy, and taste good in addition to being filled with vitamins and minerals. Dr. Shillingford's weight loss surgery patients come to his Boca Raton office from surrounding areas, like Miami, Fort Lauderdale, and Parkland, but also more distance locales like Tampa, Naples, Orlando, and Jacksonville.