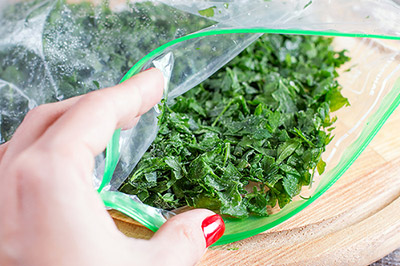 We've all seen it. You go to use your lettuce, spinach, kale, or other green leafy veggie and you see a slimy, wilted mess that kind of resembles what you remember being in the package.
It's not pretty.
But, there could be a quick, easy, painless, and almost free solution.
Many people swear by this hack. Put some paper towels in with your greens to keep them fresher for longer. You can wrap them in paper towels and put them in a bag. Or you can line a hard plastic container or the clamshell they come in with paper towels. But, the paper towels absorb moisture and help extend the life of your veggies. This is a quick and easy way to make sure your veggies are fresh when you're ready to eat them. After protein, vegetables should make up the bulk of a bariatric surgery patient's diet. By eating protein, then vegetables and fruits, and finally whole grains and starchy carbohydrates gastric sleeve, gastric bypass, and lap band patients can maximize their weight loss. Having a stash of healthy low carbohydrate vegetables in your fridge is a great way to maintain your weight loss diet. Make sure to follow Dr. Shillingford's stages for your post op surgery diet and not eat raw vegetables before your stomach is ready.
Dr. Shillingford, MD, PA is a board certified surgeon specializing in advanced laparoscopic and bariatric surgery. His gastric sleeve, gastric bypass, and lap band patients receive top-notch care at Northwest Medical Center's Center of Excellence in Bariatric Surgery, where Dr. Shillingford proudly serves as Medical Director. His Boca Raton office is conveniently located for his weight loss surgery patients to come for follow up care from nearby Delray Beach, Miami, Fort Lauderdale, Wellington, and Coral Springs, as well as farther locales like Orlando, Naples, and Jacksonville.