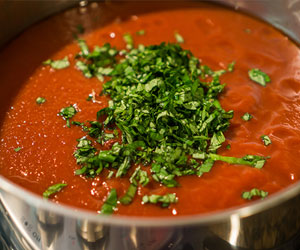 When you think of homemade pasta sauce, you may think about a grandma standing over a pot all day stirring. But, really, making your own tomato sauce can be easy and not all that time consuming.
In under an hour and with only a handful of ingredients, you can make your own pasta sauce. You may think this is crazy because opening a jar of sauce only takes a few seconds, but making your own has many benefits, especially for bariatric surgery patients.
First, you have control over your own ingredients and can flavor it how you like it. Adding vegetables is a good way to boost the vitamin and mineral content without adding a lot of calories. Spinach, kale, carrots, and mushrooms can make great additions. Also, you can adjust the spices to your preference- basil, oregano, bay leaves, savory, or thyme. Or, if you like it spicy, go heavy on the red pepper flakes. It's up to you. Cheese, like ricotta, romano, or parmesan, may also be a welcomed addition for extra protein.
Second, your homemade sauce will have no added sugars. Many people don't realize that jarred pasta sauce can have added sugars to increase its sweetness and palatability. By making your own, you can eliminate another source of added sugars from your post gastric sleeve, gastric bypass, or lap band diet.
Third, you get to skip most of the ingredients you can't pronounce. Aside from what's in your tomato paste, you'll know all of your ingredients and can avoid things like firming agents and preservatives.
Fourth, by making your own sauce, you can opt to freeze some for future use. Let's face it, gastric sleeve, gastric bypass, and lap band patients tend not to eat a lot at one time, so jars of sauce can go uneaten and wasted. But, when you cook up a batch of your own sauce, it's easy to freeze it for future use. Try using ice cube trays to make small batches that will reheat quickly.
Making tomato sauce doesn't mean you have to eat pasta. Although you can fit pasta into a gastric sleeve, gastric bypass, or lap band diet, the traditional huge plate of pasta and sauce is certainly not your best choice anymore. But there are make more uses for tomato sauce than just for pasta.
Try these ideas when you're craving tomato sauce:
Spoon a dollop on top of an egg omelet filled with onions and spinach
Use it on chicken, turkey, or beef meatballs
Use it as a dip for boneless, skinless roasted chicken pieces
Add it to green beans or okra for extra flavor
Use as a poaching sauce for cod
Use as a dip for mozzarella cheese
Add a small amount into a soup for extra richness (this works well with beef vegetable soup, minestrone, or lentil)
If you can think of more uses for your homemade tomato sauce in your post bariatric surgery diet, let us know! Dr. Shillingford's gastric sleeve, gastric bypass, and lap band patients are always looking for new, healthy, low sugar ways to add nutrition and variety to their weight loss surgery diets, and would welcome suggestions!
Dr. Shillingford performs gastric sleeve, gastric bypass, and lap band surgeries at Northwest Medical Center's Center of Excellence in Bariatric Surgery. Over the course of his career, Dr. Shillingford has performed over 4,000 bariatric procedures, but most of his gastric sleeve, gastric bypass, and lap band patients come from Florida cities, including Boca Raton, Miami, Fort Lauderdale, Orlando, Jacksonville, and Tampa, as well as areas like Ohio, Texas, New York, and New Jersey.