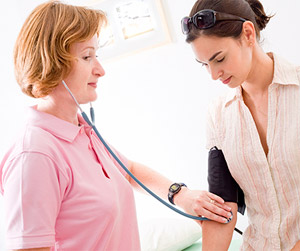 When we go to the doctor, we get our blood pressure taken. But what do those numbers mean?
Your blood pressure reading is made up of two measurements represented by numbers, i.e. 120/80. The top number is the systolic blood pressure and the bottom is the diastolic blood pressure. These numbers are measured in mm Hg, or millimeters of mercury.
The systolic blood pressure (the top number) measures how much pressure the blood places on artery walls when the heart beats. The diastolic blood pressure (the bottom number) measures how much pressure the blood places on artery walls when it is at rest between beats. This is why the systolic blood pressure is higher than the diastolic.
For your blood pressure to be normal, both numbers should be below 120/80. If the systolic blood pressure is between 120-129 AND the diastolic is below 80, then your blood pressure is elevated. If a medical professional measures your systolic blood pressure at 130-139 OR your diastolic at 80-89, you can be diagnosed with hypertension stage 1. Hypertension stage 2 can be diagnosed at 140 or higher for your systolic OR 90 or higher for your diastolic. A hypertensive crisis can be diagnosed if your systolic is higher than 180 AND/OR your diastolic is higher than 120. Click here to find a handy chart and more information from the American Heart Association.
Risk factors for high blood pressure include: smoking, having diabetes, being overweight or obese, having high cholesterol, leading a sedentary lifestyle, having an unhealthy diet. If you have hypertension stage 1 (130-139 mm Hg systolic or 80-89 mm Hg diastolic), your doctor is likely to recommend lifestyle changes. This may include reducing your risk factors by reducing sodium in your diet, achieving weight loss, controlling your blood sugar levels, and exercising.
If you have hypertension and are obese, you may be a candidate for bariatric surgery. To learn more about gastric sleeve, gastric bypass, and lap band surgery and if it's right for you, schedule your free informational session with Dr. Shillingford, MD today by calling (561) 483-8840. Dr. Shillingford, MD, PA is a board-certified surgeon specializing in advanced laparoscopic and weight loss surgery. He proudly serves as Medical Director of Northwest Medical Center's Center of Excellence in Bariatric Surgery, where his patients receive outstanding care and compassion from trained staff specializing in bariatrics.