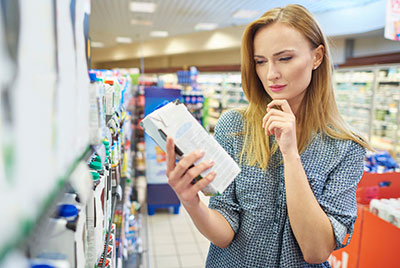 "An almond doesn't lactate," FDA Commissioner, Dr. Scott Gottlieb, said at a summit in Washington in July. It was a line that would dominate headlines across the nation. It's true: an almond doesn't lactate. But what does that have to do with almond milk?
The FDA uses what's called "standards of identity" to define what a food is. Milk is defined as "the lacteal secretion...obtained by the complete milking of one or more healthy cows." Almond milk clearly isn't made the same way. Yet, we call it almond milk. Same goes for other nondairy "milks" like soy milk, rice milk, and cashew milk.
The dairy industry has raised concerns over the naming of nondairy sources of milk as milk, yogurt, and cheese. In March, Congress approved a bill that expressed concerns over proper labeling of milk based on the FDA's own standards of identity. FDA head Scott Gottlieb said that he expects lawsuits over the issue and has therefore will begin taking the first steps in deciding if plant-based sources can be labelled as milk.
Dairy industry professionals point out that by calling plant based drinks milk, they give customers the impression that the beverages provide a similar nutritional profile as dairy milk. In many cases, it isn't true. Soy milk, almond milk, coconut milk, rice milk, and cow's milk differ in protein content, vitamin and mineral profile, fat content, and carbohydrates. That isn't to say one is better over the other, but just that they are different. The standard of identity should help protect against such large differences.
For gastric sleeve, gastric bypass, and lap band patients, reading labels on your "milk" is important. Pay careful attention to the amount of calories, fat, carbohydrates, and protein in order to make sure your milk choice fits into your post bariatric surgery diet. Ideally, your milk should be high in protein, low in calories and carbohydrates. If it's sweetened, it most likely has added sugar and isn't something that should be included in your gastric sleeve, gastric bypass, or gastric band diet.
Stay tuned to learn more about the FDA's decisions regarding milk labeling. But, in the meantime, use this opportunity to examine the milk in your fridge to make sure that you are choosing the best milk for you (which should be high in protein and low in carbohydrates). Refer back to Dr. Shillingford's gastric sleeve, gastric bypass, and lap band diet if you have questions on which foods are allowed in which stage. If you are unable to locate your dietary paperwork, you can find the chart here:
Dr. Shillingford, MD, PA is a board certified surgeon specializing in advanced laparoscopic and weight loss surgery. He has performed over 4,000 surgical procedures, and regularly schedules his patients' gastric sleeve, gastric bypass, and gastric band surgeries at Northwest Medical Center's Center of Excellence in Bariatric Surgery, where he proudly serves as Medical Director. His weight loss patients come from all over Florida, including Miami, Fort Lauderdale, Boca Raton, Orlando, and Jacksonville, to have their surgery with Dr. Shillingford. To schedule your bariatric surgery consultation, call Dr. Shillingford's office today at (561) 483-8840.