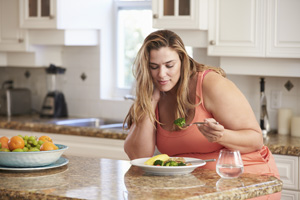 Reducing your caloric intake without feeling hungry can be tricky, especially when you are planning and preparing for a lap band, gastric sleeve, or gastric bypass. Dr Shillingford, located in Boca Raton Florida is an obesity surgeon who specializes in gastric sleeve amongst other obesity operations. His staff is always filled with advice to aid patients who struggle with obesity per nutrition and fitness.
Please note If you are left feeling unsatisfied, you run the risk of overeating at or before the next meal. Try these 5 simple ways to help reduce calories while still feeling satisfied:
Turn off the TV or computer while you eat.


Distracted eating can lead to eating passed the point of fullness. You may keep eating just because your show is still on or your not done browsing a website.

Don't eat out of a bag or box.


Place a portion of your food in a bowl or plate, seal the bag or box up and put it away before you start eating. You may be less likely to go back for more if the container is closed and put away.

Put your fork down between bites.


The feeling of fullness comes from hormones released by your intestines. It may take about 20 minutes for your brain to register these hormones. If you eat too quickly, these hormones may not have time to properly communicate with your brain. Put your fork down between each bite, chew your food thoroughly, and swallow before picking up your fork again. If you make you meal last longer, you give these hormones time to communicate with your brain while your still eating, and you may feel full before you finish your meal.

Brush your teeth after each meal.


Sounds a little too simple, but it's worth trying. Brushing your teeth can leave you with a clean, fresh feeling in your mouth. You may find you are less likely to snack and ruin that sparkling fresh feeling.

Eat more fresh vegetables.


Many vegetables naturally are low in calories and high in fiber, making them a great choice for filling your belly without filling out your waistline. Eating fresh vegetables such as celery, lettuce, cucumbers, peppers, broccoli, and cauliflower can help fill your stomach without adding a ton of extra calories. Fresh vegetables also have a nice, satisfying crunch and take you longer to chew than canned or frozen vegetable. Just be careful not to smother the vegetables in a high calorie sauce or dip, and crunch away!
Our obesity surgery practice in Boca Raton Florida is happy to answer further questions you may have on the gastric sleeve or associated obesity surgery procedures!